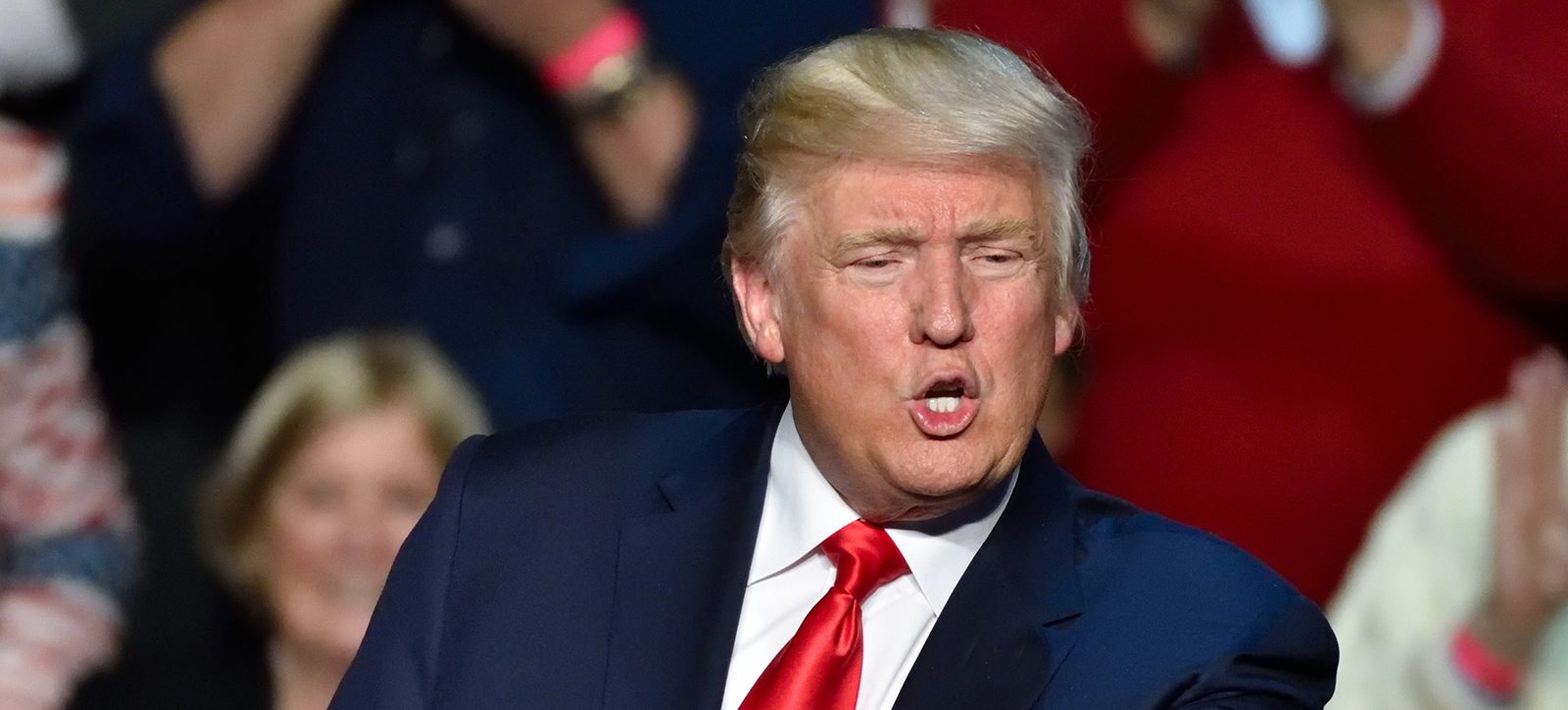 Donald Trump's upbeat tweets about the US economy were found to boost currency markets
Erratic, rambling, vainglorious - tweets from former President Donald Trump often sent markets scurrying to make sense of them.
But could his thinking out loud on Twitter have exerted more influence on the largest markets in the world than we ever realised? Was his Twitter habit more strategic than we gave him credit for?
We set out to prove that certain opinionated tweets gave the dollar - the world's safe haven currency - a tangible boost and had a measurable impact upon international currency markets in terms of value and activity.
Even before his presidency, Trump was a phenomenon on Twitter. Once in office, he sent more than 23,800 tweets and amassed 79 million followers.
In a single day, he once sent a record 142 tweets, and in 2020, he tweeted more than 10,600 times.
Market players followed these tweets avidly - from armchair traders, small time investors to leading global banks.
On stock exchanges he could - briefly - send shares of individual companies tumbling or soaring, leading one industry expert to create an automated tool to trade on companies mentioned in his tweets.
But could he really have the power to move some of the largest markets in the world which see some $6.3 trillion of trades a day?
The sheer scale of foreign exchanges mean they are exceptionally difficult to influence - central banks and governments pit enormous resources to maintain stability. Could 140 characters really shift them?
How did Trump's tweets affect the dollar?
We've created an economic model - we believe it to be the first - to take a comprehensive look at the impact of Trump's tweets across the dollar and a group of international currencies.
What we've discovered is surprising. You might expect savvy markets to discount upbeat commentary from a leader with much to gain from talking up the national economy.
But we showed Trump's tweets about trade and the economic outlook nonetheless reduced volatility in the market and created a consensus of opinion among market players - or at least less disagreement. Crucially, they raised the value of the dollar on the foreign exchanges - quite a feat for just one man with access to the internet.
Trump's Twitter feed was noisy, and we used sophisticated language analysis tools to highlight only the tweets that we judged relevant to international currency markets.
Amid complaints against the media, Hillary Clinton and a perceived witch hunt, we were able to identify Trump tweets that dealt with economic fundamentals and international trade - which we judged relevant to foreign exchange markets.
More than half of these particular tweets were upbeat, with nearly three in ten neutral and one in five negative.
As one typically optimistic tweet enthused: "HAPPY THANKSGIVING, your Country is starting to do really well. Jobs coming back, highest Stock Market EVER, Military getting really strong, we will build the WALL, V.A. taking care of our Vets, great Supreme Court Justice, RECORD CUT IN REGS, lowest unemployment in 17 years....!"
Some tweets explicitly mentioned trade policy, while others made direct reference to international currencies.
Our methods - based on documented volumes of trade, volatility and the rise of the dollar - prove beyond doubt that these tweets have an impact. This was visible but also amongst those sympathetic to the then president but also among rational, detached traders.
Are tweets dangerously powerful?
Timings of Trump's tweets about the economy and international trade became a hot topic.
Our close analysis has revealed a distinct correlation between his upbeat sentiments on Twitter and negative media coverage - notably of the ongoing investigation by US special counsel Robert Mueller into potential Russian meddling in the 2016 US election.
The frequency and timing of these tweets suggest a deliberate tactic of using positive message about the economy to distract from potentially damaging news.
Of course, the market gains in the wake of a Trump tweet about the economy or trade were short-lived and were often reversed within an hour.
But one hour is a long time in markets where tools are built to capitalise on being the first - within a split second - to trade.
The ethics of a leader possessing the ability to drive the market in what's arguably the most important security in the world is for political scientists to argue over, and many will see this as a dangerous level of power.
What we've shed light upon are the mechanisms that can prove the impact of targeted tweets from the most powerful world leader.
This is - to date - a unique situation. Many other world leaders and politicians use social media but don't have the same power to influence markets.
Trump wasn't the first president to take to Twitter - former President Barack Obama first used it to address the electorate directly.
But Trump has proven the extensive reach of a social platform - and this is something we should keep in mind.
Further reading
Filippou, I., Gozluklu, A., Nguyen, M. T., and Viswanath-Natraj, G. (2021) "The Information Content of Trump tweets and currency market"
Gozluklu, A., and Morin, A. (2019) "Stock vs. bond yields and demographic fluctuations", Journal of Banking & Finance, 109, 105683
Filippou, I., Gozluklu, A., and Taylor, M. (2018) "Global political and currency momentum", Journal of Financial and Quantitative Analysis, 53, 5, 2227-2259
Arie Gozluklu is Associate Professor of Finance at Warwick Business School. He teaches International Financial Management across the undergraduate programmes and the MSc Global Banking and Financial Regulation and Accounting and Financial Management on the Executive MBA and Distance Learning MBA.