Dispatches: How the Royal Warrant boosts UK exports
12 December 2015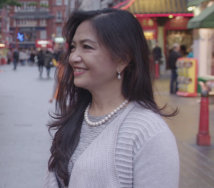 Professor Qing Wang revealed on Channel 4's Dispatches how the Royal Warrant can help a company crack the highly lucrative Chinese market.
China is now the biggest market in the €230 billion global luxury goods sector, with 29 per cent of the total sales in 2014 coming from the most populous country in the world and British firms are taking a large chunk of it thanks in part to the Royal Warrant.
In the programme Professor Wang used a series of experiments to show how Chinese shoppers prefer goods with the Royal Warrant.
"It confirmed our research," said Professor Wang. "We surveyed Chinese consumers in 13 cities covering five regions of China. We found that 57 per cent said the Royal Warrant is important or very important in increasing desirability of British brands."
Royal Warrants have been granted since the 15th century and it is the sense of history and tradition that the crest garners a product or service that boosts its marketability. There are around 800 holders of a Royal Warrant, which marks out the goods and services the Queen and her household use.
Those holding the warrant range from individual craftsmen to multinational companies like Burberry and Hunter Boots.
"The royal endorsement is particularly advantageous for companies exporting to China, the rest of Asia, the Middle East and the US," said Professor Wang.
"It signifies the desirability of the British lifestyle and has come to symbolise quality and excellence. The Royal Warrant gives brands added value as an indicator of quality and prestige, it is a stamp of approval."
Professor Wang's research has found that the monarchy plays a big role in marketing British luxury brands as the country's heritage and culture help it outperform its global rivals in emerging markets such as China. This is reflected in the brand value of $87 billon that valuation consulatancy Brand Finance put on the Royal family in 2015, which includes the uplift to tourism and the price premium commanded by products with Royal Warrants.
"This brand value is comparable in magnitude to the world's most valuable brands such as IBM at $93 billion and Coca Cola at $83 billion", said Professor Wang commented.
"Luxury goods are defined as those satisfying hedonic rather than functional needs and our research has found this is an area that Britain enjoys a distinct advantage in.
"Put differently, Britain's advantage lies in its so-called soft power, which is defined as the ability to get what you want through attraction rather than through coercion and cultural heritage is a key part of that. The extent of its impact is hard to measure and even harder to replicate. As China promotes its own soft power, it has increasingly turned to Britain for inspiration."
"A very important factor that makes Britain standout is that it incorporates tradition and innovation seamlessly as manifested by heritage brands like Burberry and Jaguar Land Rover. Until recently China was responsible for one fifth of the total sales and 80 per cent of the profit of Jaguar Land Rover, the UK's leading manufacturer of premium luxury vehicles.
"For luxury firms across the world, unique and customised product offerings combined with exquisite craftsmanship and the British royal association will continue to drive sales in emerging markets."
Watch Professor Wang on Channel 4's Dispatches.
Read more from Professor Wang on how Britain's culture helps market its products here.
And find out why UK business needs the Queen here.