Kevin Mole wins worldwide award for research
16 August 2013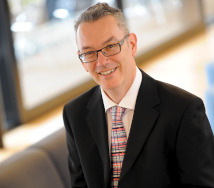 Warwick Business School Associate Professor Kevin Mole has won a prestigious worldwide award for outstanding research.
Dr Mole was awarded the 2013 Thomson South-Western Award for Outstanding Research-Based paper on Management Consulting at the 73rd Academy of Management conference held in Florida, USA.
The paper could have real implications for Government policy in the UK as they look to help the huge number of small and medium-sized enterprises grow their businesses and put the country on a level footing with Germany's famed Mittelstand.
Academics from all over the world submitted papers for the award and the panel of judges chose Dr Mole's paper for its research rigour, contribution to the literature and interest for management.
Dr Mole, who is part of the £3m Enterprise said: "It is a great honour and a fantastic surprise to win this award. The Academy of Management conference is the conference that everybody looks forward to each year and to win such an award in front of my peers and so many esteemed Professors in the management consulting field is very satisfying.
"I have been researching the area of business advice for small and medium-sized firms for many years and to receive such recognition is extremely rewarding."
The paper entitled 'Who Takes Advice? Firm Size Threshold, Competence, Concerns and Informality in a Contingency Approach' looks at why and when managers of small and medium-sized firms take advice from public and private bodies.
Dr Mole surveyed 1,202 companies to produce a model to help business advisors and Governments have more success at helping firms grow.
The research showed that a large group of firms employing between five to nine workers faced challenges and would welcome advice but don't take advantage of it.
"It was a very interesting piece of research and will hopefully have practical implications for the Government in the UK," said Dr Mole. "There is a real emphasis by the Government to encourage growth in the estimated 4.8 million small and medium-sized companies in the UK at the moment to drive the economy back into good health. Making sure they get the best advice and they take it on board is essential in achieving that."
Dr Kevin Mole teaches Understanding Enterprise and Understanding the Entrepreneur on Warwick Business School's undergraduate courses and Intrapreneurship on the Warwick MBA.