Eight tips on building a tech start-up by an entrepreneur
05 September 2019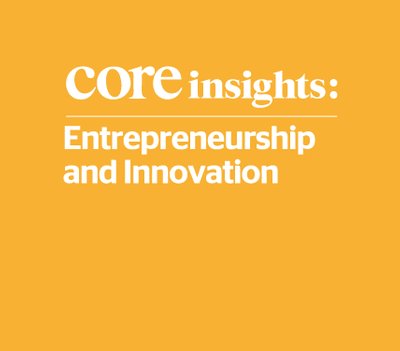 By Sophie Thompson
The idea for VirtualSpeech - a professional development platform that combines online courses with practice in virtual reality - came from our fear of public speaking.
We hated doing public talks and thought VR could help us practice. So we built the app for fun, and put it on the app stores.
We had no intention of turning it into a business at first - we just thought practicing in VR would be a great way to get over our fear of public speaking, not realising that loads of other people have this fear as well.
VR is the perfect solution to get over this fear and practice in immersive environments that are as close to the real thing as you can get. We found a common problem and built a new and much better solution with VR.
From a VR app it has expanded into an online education platform with courses in public speaking, job interview preparation, business networking, B2B sales training, and more.
In just two years we have grown the idea and business model so we are now a profitable business, one of the few in the VR space able to say that. It has been hard work, with many lessons learned along the way. Here are my eight tips on setting up a digital business:
1 Tell the press
We were really lucky with our press coverage. We were first to market, and the press picked up on it. Some tech websites found us and reviewed the app, I think The Next Web were first, and then it snowballed from there and even The New York Times picked it up.
We didn't realise at the time how amazing it was to be in The New York Times. Everybody has asked us since 'how did you get an article in The New York Times?' But we didn't do anything!
That press coverage really helped, and we reached 100,000 downloads in a few months, which was unheard of in the VR industry at the time.
We quickly learnt the value of good press, so sending a press release to the media is something you should do straight away when launching your app or business, and even some local press coverage will really help.
2 Plan monetising from the start
Looking back, I think we should have started charging for the app from the start, even if it was just £1. After the stores take their cut, it still would have given us a good revenue base.
Once we put it on the stores for free, we couldn't change it and go back to charging. We experimented with in-app purchases, where people could unlock other rooms or scenes for a fee, but you can't charge that much because of the perceived low value of an app.
It also wasn't going to produce recurring revenue to give us a sustainable business model. We had the same problem with a subscription model too, because people would use it for a specific speaking event and then cancel their subscription.
We then pivoted to combining VR with online courses, to become an online communications training company. Now, consumers and businesses pay for online courses in communication, which are integrated with VR training and practice.
The thing with public speaking and most communication skills is that you are not going to get better unless you practice, so people can do the course and watch examples before going into the app to practice themselves.
The app gives users real-time voice analysis and they're able to view and track their progress for eye contact, speed, pitch, and other verbal skills.
It's much more effective than just taking a course and waiting for a real speech or pitch to try out what you've learnt. With VR, there are no real-world consequences.
3 Innovate fast
Technology changes so fast and we have experimented a lot, but looking back, I would try more things out and try them quickly. It is better to know quickly whether they work or not, than wait for six months, and then try something else.
We have experimented not just with the VR and what services we offer, but also with the business model. We were told that a business should not straddle B2C and B2B, but we have found it works for us.
The B2C side provides our monthly recurring revenue that keeps us in profit each month, while our B2B customers are long-term projects that involve a lot of discussion, customisation and paperwork – the sales cycle is so long that we wouldn't have been in profit for the last year if we had concentrated solely on B2B.
4 Do content marketing
We've tried Google ads and Facebook ads, but most of our leads have been inbound thanks to content marketing and writing high quality blogs.
Since we started writing blogs we have had a 35 per cent increase in website traffic each month. We have been really focusing on our SEO and we do blogs all the time, so much so that we have now employed somebody to specifically write blogs for us.
We are on social media, but I don't know how useful it is for us as not many people are going to sign up to a paid course straightaway. I've read that you have to make six touch points before people buy a purchase of that value.
That's why remarketing has been our most effective strategy on Facebook - it adds another touch point. But really, companies are finding us because of our SEO, so we haven't had to do any hard selling.
5 Apply to incubators
We were lucky in that we were asked to apply for Boost VC's start-up acceleration programme in Silicon Valley after they discovered our app.
However, you should definitely actively look for incubators to apply to. It really benefited us and helped us become a business rather than a side project - it was at Boost VC that we experimented with our pricing models.
I have done an MSc International Business, which gave me general business acumen and strategic insight after my Theology degree, and I worked at a social media agency for a bit.
Our time at the incubator, however, really added practical knowledge; we learned a lot from the other start-ups and mentors, and gained valuable insight into how the whole start-up process works, the funding rounds, what VCs are looking for, and how to be a successful entrepreneur.
6 Rounds of investment funding are not the only route
After getting some funding from Boost VC and Innovate UK, we decided not to raise a formal round of funding. This was partly because raising a round is like a full-time job in itself - it takes a lot of time and resources, and we don't have the people capacity to do that.
A lot of investors we spoke to were also based in the US and wanted us to move there, but it costs a lot more to hire engineers there than over here in the UK.
You also have to give up part of your company in return for investment and we wanted to retain complete control over our direction.
We decided to grow organically and aim to make a profit as quickly as possible - if you raise £1 million, you find ways of spending it and two years later you could still not be making a profit, and we didn't want that.
We're focused on revenue and building a sustainable business model, and at the moment we're one of the few revenue-positive VR companies.
7 Keep costs low
With the wonders of the internet you don't need all your employees to be in the same place or to pay for a big, fancy office space.
I live in Warwickshire, but my business partner Dominic Barnard is in London. I am moving to London, because that is where the tech scene is in the UK, but Dom is then going to Amsterdam for a few months.
He does all the coding and engineering, while I work on the more customer-facing side of things - marketing, sales, and strategy.
We employ two other engineers, one in Russia and one in London, while our content writer is also in London. We all communicate a lot through Skype and Google hangouts so everyone is kept up to date.
8 Know your worth
Do not be afraid to say no. Once you've set your price, stick to it. People always try to cut it down and when you're starting out and you just want your first customers, it's so tempting to charge peanuts just to get them to use your product.
But at Boost VC they often reminded us to never undersell ourselves - whatever you are thinking of charging then add a bit more because start-ups often undervalue what they're selling.
Pricing is difficult with a new technology because there is nothing to compare it to and trying to get research on the VR sector was very difficult.
You need to be confident in every aspect of being a founder, as in tech the chances are that what you are doing is very new, so it is your job to convince people why it works and it is worth investing in.
If you are not confident in your product, they aren't going to be. As a woman in her twenties, I often have meetings with 50-year-old men in suits, and when we first started, that was really intimidating for me - but you have to be confident and believe in your product, or nobody else will.
Sophie Thompson is Co-founder of VirtualSpeech and studied MSc International Business.
For more articles on Entrepreneurship & Innovation sign up to Core Insights here.
To discover more entrepreneurship related news stories and blogs, visit our entreprenuership hub.