End of the road for car giants?
14 January 2015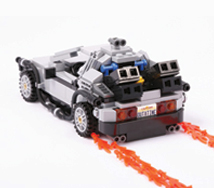 The Detroit Motor Show sees petrolheads rush to Detroit in droves, but with technology advancing so quickly, car companies are looking to advance their vehicles in other ground-breaking ways away from the need for speed.
One influence on such new innovations is smart devices: smartphones have come on in leaps and bounds in just the relatively few years they have been widely available on the market.
But what if your car could become a giant mobile, with apps and technology integrated at an unprecedented level? What would this mean for the automotive giants? Ashley Potter investigates in this article for Core magazine.
To get to grips with the topic, he sat down with Ola Henfridsson, Professor of Information Systems and Management at Warwick Business School, to question whether similar advances could be made in the development of technology for cars.
Together they look at the prospects that new technology could mean the end of the big players in the automotive industry.
In their place technology firms such as Google and Microsoft could muscle in as cars become more and more advanced.
This would then leave a whole window of opportunity for people to get into the industry with new more technological skills, out of the conventional remit of staff working for manufacturers such as BMW.
After all, it happened in the mobile industry. With new business models arising, a keen developer with a little money but grand ideas could make potentially millions by developing digital applications.
Could we see a Mark Zuckerberg emerge for cars in the same light as his Facebook empire has taken the internet by storm? Could apps able to tune engines, or put an end to troublesome recalls be on the cards?
These questions and many more are posed in the article, so read the full version online here now, or pick up the latest edition of Core today.