Energy Challenges in China
28 September 2012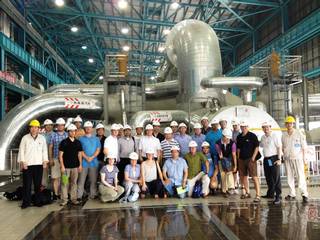 Participants on the Warwick Global Energy MBA recently attended a joint workshop in Shanghai where faculty from WBS and Tongji University School of Economics and Management (SEM) assessed how China's economic growth is influencing the energy industry across the world.
While China remains a powerhouse of economic growth compared to many western economies, recent declines in its GDP have been raising questions for its energy industry regarding the future supply of and demand for energy.
"China's GDP growth fell to 7.5% in the second quarter of this year, the lowest rate since 2009," commented David Elmes, Head of the Global Energy Group at WBS. "While this remains a phenomenal rate of growth, it was interesting to hear mention of concerns like the 'middle income trap' when we were in Shanghai. The middle income trap is where a country no longer has the low labour costs to make its exports attractive and faces economic and social challenges in continuing to expand its economy."
Participants on the Global Energy MBA combined their studies with visits to firms such as Baosteel, a major energy user, and the Waigaoqiao No.3 Power station, one of the world's most efficient ultra-supercritical coal fired power stations. As part of their MBA module on Strategic Advantage, the participants also studied how companies across the world are taking decisions to address the need for affordable and sustainable energy.
Warwick Global Energy MBA participant Raul Gomez Morales works with Lafarge Cement. He commented, "This was a great trip that combined lectures from WBS and Tongji University with interesting visits."