Ethics central to creating a new banking culture
13 July 2015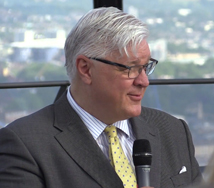 Crash has seen ethics become central to business education

Behavioural Finance Forum discusses ways of changing banking culture

Fines alone won't produce shift in attitudes in finance sector

Motivation should not be all about how big bonus will be
Warwick Business School Dean Mark Taylor told a forum on culture change in the financial services that ethics is now at the core of business education since the financial crisis.
The banking and financial services sector has been hit by a series of scandals since banks around the world were bailed out by governments or went to the wall during the 2007-08 financial crisis.
The Libor scandal, PPI, foreign exchange rigging, money laundering and the mis-selling of complex insurance deals have seen the reputation of the financial services industry dragged through the mud.
At the 2015 Behavioural Finance Forum held at The Gherkin in London Professor Taylor revealed business schools have a part to play in changing the culture of banking and restoring its battered reputation.
"Since the crisis business schools have looked to get back to the roots of why they began," said Professor Taylor. "When they were first set up business was seen as a profession alongside doctors and lawyers and ethics was an important part of the teaching - just as doctors were guided by a Hippocratic Oath so were business leaders.
"Over the decades since that had been lost partly because of economists talking of maximising shareholder value and incentives, even at the expense of ethics, but the crisis has seen a reappraisal of that and ethics has once again become important.
"At Warwick Business School it is a core part of the curriculum - it is not just a bolt-on module, it is embedded in everything we teach at the school."
Professor Taylor, a former foreign exchange trader and ex-Managing Director at asset managers BlackRock, believes introducing criminal charges for the manipulation of markets and making senior managers of banks accountable for their staff through sanctions might be the only way to change the culture.
"The total amount HSBC has been fined amounts to two per cent of its cost base and 15 per cent of its bonus pool, it is a bit embarrassing really and it is difficult to see these fines will produce the shift in culture that is needed in financial services," said Professor Taylor.
"After all we have seen one scandal follow another, the FX rigging was going on while banks were being heavily fined for manipulating the Libor. It raises the question as to whether criminal charges should be produced against the people in senior management positions - that may be a way of changing the culture, so far there have been very few criminal charges for what have been very serious offences.
"When I was manager at BlackRock 95 per cent of our clients were pensions funds, they were in for long-term investment so issues like this never came to the fore. But during the crisis, when bonuses were down and you had to find another way to motivate staff I made a point of our fund managers meeting pension fund trustees and recent retirees.
"It was an effort to make our fund managers realise that it was not about their wallet, but about a sense of duty to society, because people's livelihoods and pensions were in their hands."