Experts offer industry insights at consultancy event
16 March 2016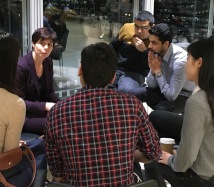 MSc Business (Consulting) students visit IBM
The 81 students also attend panel session at The Shard
Experts were on hand to discuss all things consultancy
Questions included: 'What is your most embarrassing moment?'
Students visited IBM's new London design studio to participate in a workshop with consultants representing a variety of sectors and career paths.
The 81 MSc Business (Consulting) students had a look behind the scenes of what an IBM consultant does and after the workshop they then questioned a panel of experienced senior consultants from a range of top companies at WBS London at The Shard.
Kamaran Sheikh, CIO Lead at IBM, said: "It was a pleasure to host the WBS consulting leaders of the future at the IBM London Studio. We demonstrated the principles of IBM Design Thinking, Agile Methodology and Consulting, which have been instrumental to the transformation of IBM, and our client experiences.
As the students develop in their careers, they learnt to restlessly reinvent themselves; to keep pace with the speed of change in the Digital era and enable their careers to flourish."
The panel featured Yasmin Becker, an Independent Consultant at Brownsover Green, Astrid Berkman, Partner at Arcadis, Sarah Bell Partner at Grant Thornton, Chris Moxon, Project Leader at Boston Consulting Group, Phil Mennie, of PwC, and Kamaran Sheikh.
MSc Business (Consulting) student Sanhajutha Julanont said: "I found it quite useful and interesting because it is not directly related to the hard skills to become a consultant in a big company, but it is more how to become a successful consultant while finding the right work-life balance.
"This was more practical and revealed the real-world situation. Some of the experiences are not directly applicable to only consulting but can apply to every life situation - I was quite impressed with The Shard panel session."
The panel answered a variety of questions ranging from 'what their most embarrassing moment was as a consultant' to 'what job they would have considered if they did not go into consultancy'.
Student Xiaojing Yuan added: "The visit to IBM's London studio provided us with an insight into the innovative and agile capabilities of the company. Plus, the career path and life experience Kamaran shared was illuminating - he has deeply inspired us to be a lifelong learner.
"The panel session was a valuable experience for us to communicate with the consultants directly in a small group."
The day is now a feature of the MSc Business (Consulting) programme and Joao Baptista, Associate Professor of Information Systems and Programme Director, believes it gives students a valuable and real insight into the variety of roles consultants take on.
Dr Baptista said: "The purpose behind this event was to look behind the scenes of the profession and show our students the wide range of pathways into the consulting world.
"I really believe this helps cement WBS's MSc Business (Consulting) course as the best route into consulting in the UK."
Ms Bell from Grant Thornton added: "It was great to be speaking at an event where the consulting workforce got to merge and discuss the opportunities and challenges with the consulting talent of the future.
"It was inspirational to see students' desire to understand, from a practical point of view, how they can unlock their potential to deliver value to future employers, clients and society.
"One area I explored in detail with students was around mapping, aligning and translating an organisation's values to their personal values to potentially identify quicker where a more sustainable, successful and rewarding career may be established.
"Warwick Business School is clearly focused on developing consulting professionals – resilient and open to experiment, focused not just on the tools and techniques, but with a mind to how they fit into the wider organisational business model.
"Plus how they fit into the organisation's purpose, culture, wider stakeholder interest groups and the roles that diversity in effective collaboration and innovation play in order to transition knowledge and deliver lasting fit-for-purpose solutions to both society and clients. There is a clear appetite to gain an appreciation for the value of practical experience in developing a sustainable career rather than chasing immediate short-term monetary outcomes."
Yasmin Becker added: "As a panel member, I was impressed by the enthusiasm with which the students engaged with me to discuss their careers and personal situations. It was great to be able to share my experiences and convey the importance of making the best of the situation we find ourselves in and enjoy what we do!"