Five fantastic Finance students receive ACT award
23 April 2015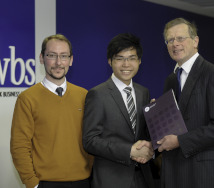 Five undergraduates from Warwick Business School have been awarded prizes for their sterling performance in two Finance modules.
The prizes were awarded by the Association of Corporate Treasurers (ACT), in partnership with Jaguar Land Rover (JLR) for the first time this year, with each student receiving a cash prize and a certificate.
The ACT rewards the best scoring students in modules Finance 1 and Finance 2 of Warwick Business School's BSc Accounting & Finance course.
Jun Rong Yeo, of Malaysia, was delighted to be top of the class in both Finance 1 and Finance 2 combined and win the £120 first prize.
He said: "To win the top student award is great. I'm very happy, and I was actually a little surprised as I found Finance 2 a tough module, but once I started to understand all the concepts behind it, it all became clear.
"To me this is more important than remembering all the formulas, you can really apply what you've learnt."
Jolyn Tan, also from Malaysia, was one of four students awarded £70 each after coming joint-second in Finance 1 and Finance 2.
She believes the awards are a great way for students to stand out from the crowd.
"Like Jun Rong I was surprised to win," she said. "I think this award is a really good way to encourage students to do well in their exams.
"In a competitive university and business school, to get this award boosts your confidence and shows that you're on par with the rest of the world regardless of whether you're from a developing country or a developed country."
Urte Dunauskaite, of Lithuania, and Amar Patel, of London, also won prizes. The fifth prize winner was Sofia Marcheva, an International Management second year student.
Onur Tosun, Assistant Professor of Finance at Warwick Business School, said: "I think this connection between WBS and ACT is important.
"The competition surely motivates my students to work harder and achieve high grades. It gives the students the opportunity to develop networks with non-university professionals and to widen their perspective on the world outside the university.
"Last, but not least, the relationship between WBS and ACT provides quality job opportunities for my students and well-trained potential members for ACT."
James Lockyer, Development Director at ACT, presented the awards, which are now in their 14th year.
Mr Lockyer said: "We are delighted to be partnering with Jaguar Land Rover (JLR) this year to present these prizes to these outstanding students from Warwick Business School. We wish them all the best in their future careers, and hopefully alongside JLR we have raised students' awareness of the wealth of career opportunities."
After the award ceremony, JLR's Stephen Reith, Director Corporate Strategy, Duncan Karran, Assistant Treasurer, and Claire Bird, Middle Office Treasury Analyst, delivered a talk on the car manufacturer's strategy, the role of the treasury and a typical day in the life of a treasurer to an audience of students.
Mr Reith added: "Because we do outstanding business, we need outstanding people. Great success requires great people, and this award is a perfect platform for these students to demonstrate their ability."
Find out more about the BSc Accounting & Finance course using the link, or for those considering postgraduate study, more information can be found on the MSc Accounting & Finance course here.