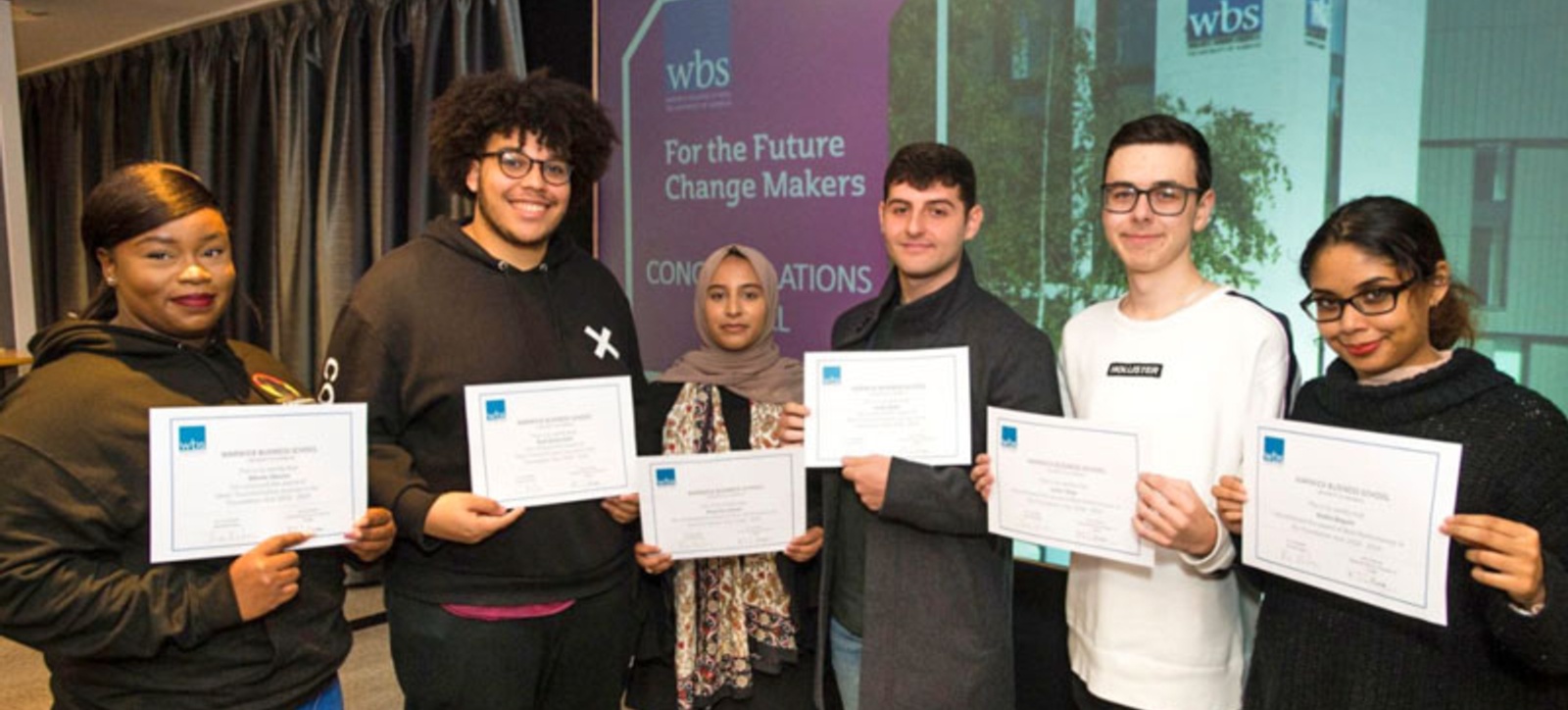 Serial entrepreneur Larry Sullivan donates £6,000 to reward students
Awards for Best Performance and Most Transformational Journey handed out
The prizes aim to empower students so they can invest in their future
Sullivan hopes awards will help students to use education to "set them free"
Six students have won £1,000 each at the school's inaugural Foundation Year awards.
The WBS Foundation Year helps ambitious students from under-represented groups gain access to higher education.
The awards have been made possible following the kind generosity of entrepreneur, social enterprise founder, and angel investor Larry Sullivan, who was awarded an honorary degree by the University of Warwick in 2017.
Tina Kiefer, Assistant Dean for Widening Participation at WBS, and Gabriella Cacciotti, Course Director of the Foundation Year, championed the initiation of the awards, as they aim to provide financial relief to empower students to invest in their future.
The prizes also reiterate the school's values - curiosity, openness, restlessness and excellence - by promoting attitudes of positive learning, diversity and mutual respect, proactive behaviour to achieve change and determination to achieve high standards.
In order to recognise students' hard work, and how they have overcome obstacles beyond their control, prizes were awarded in two categories - Best Performance and Most Transformative Journey. Awards for the former were won by Nadia Begum, 19, of Walsall, Lewis Toop, 19, of Nottingham, and Mayisha Hasan, 19, of Birmingham.
Nadia, who has progressed onto the BSc Management course, said: "The Foundation Year was very exciting and engaging and has equipped me for my degree. Throughout it, I developed my problem-solving and teamwork skills through undertaking certain modules such as Problem Solving in Organisations and projects, including the City of Culture Project, which was incredible fun."
Students on the Foundation Year also undertake a professional placement at a company, with Nadia taking hers at bank Lloyds.
"It pushed me out of my comfort zone to try new things and develop academic and professional excellence," she said.
Mayisha, who is studying BSc Accounting & Finance, said: "The Foundation Year gave me an opportunity to develop many skills, ranging from leadership to presentation skills and communication. Not only has this helped me academically, but also personally, as I can now deliver effective presentations and network confidently."
Winners of the Most Transformative Journey award were Andy Gjeka, 20, of London, Rudi Butterfield, 20, of East Sussex, and Mante Owusu, 24, of London.
Andy, also in the first year of his BSc Management course, said: "The Foundation Year is a one-of-a-kind programme giving those, who otherwise may not have had the opportunity to study at one of the best business schools in the country, the chance to do so.
"It enables you to build vital professional skills and undergo personal development. My highlight of the year has to be the network that I have been able to develop. Overall, the Foundation Year has given me the necessary skills and preparation to progress into the first year of my degree."
Mante says applying for the Foundation Year was the best decision she has made as the level of support that was immensely helpful in easing her into university life.
She added: "The relationships I have formed and the rapport I now have with lecturers and other staff members has made Warwick a home away from home. I am positive that at the end of these four years I will have had invaluable experiences, an excellent degree and built a rich network."
Mr Sullivan, who presented the students with their awards said: "Education sets you free. It just gives you the opportunity for a better, more fulfilled life. As the first of my generation to go to university, I applaud this initiative from Warwick and encourage all of you to grab it with your hands, feet and DNA."
The WBS Foundation Year gives students the opportunity to build their knowledge about business, improve key academic skills and spend a year building their confidence to succeed in the university environment before starting either the BSc Management or BSc Accounting & Finance three-year degree course.
Within a supportive environment, the year is designed to help students realise their ambitions and unleash their full potential.
To find out more about the Foundation Year course, and for full eligibility criteria, email wbsugenquiries@wbs.ac.uk or phone +44 (0)24 7615 1111.