Free course to help overseas students in the UK
27 May 2014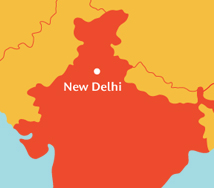 Students looking to do a Masters at Warwick Business School are being offered a free two-day course in India giving them tips on studying and working in the UK, career support and communication skills.
Warwick Business School has teamed up with Indian conglomerate Batra Group to help students prepare for life in the UK and an intense year of study.
It will be held at the Batra World Institute in Gurgaon and will see students sample Warwick Business School's unique and creative teaching methods, through a business case study and using Shakespeare's King Lear to explore themes of leadership, management and change.
The free course will also have information sessions on visa applications, working and studying in the UK, a careers webinar and a one-to-one career consultation.
Mahima Batra, Director of the Batra Group, said: "The Batra Group has been a keen supporter of Warwick Business School for a number of years.
"We are really happy to be able to help with this innovative course designed to stimulate intellectual curiosity among students to acquire new knowledge and skills.
"We hope that this is just the start of a long-term relationship benefiting both the Batra Group and WBS that helps students meet excellence in education."
The course has been designed by Warwick Business School's careers advice department, CareersPlus, along with WBS Create, a group in the school set up purely to inject creativity into the way lessons are taught and to produce more creative thinkers for the business world.
Warwick Business School Dean, Professor Mark Taylor, said: "We are delighted to be working with the Batra Group on this initiative, which is part of our ambition to produce world-class, socially responsible, creative leaders and managers who think on a global scale, regardless of the size of their organisation.

"Doing a Masters at WBS is a challenging and intensive environment. We want to give our students the best possible chance of reaching their potential when they are here and finding the career they dream of.
"This two-day course, piloting in India, will help students do that and prepare them fully for working and studying in the UK.
"We are incredibly grateful to the Batra Group for their continued and generous support, and for allowing us use of the first-class facilities at the Batra World Institute in Gurgaon."
Established in 1911, the Batra Group is a leading business enterprise with interests in education, healthcare, renewable energy and other activities across India, employing more than 3,000 people.
WBS already works with organisations in India, and has exchanged students with the Indian Institute of Management - Ahmedabad (IIMA) since 2008.
There are also many scholarships available for top-calibre students from India wanting to study at WBS, including one specifically for students of H.R. College of Commerce and Economics in Mumbai.
The pre-masters course will run for two days on June 9 and 10, contact masters@wbs.ac.uk for more information and to register.