Full-time MBA: developing yourself as a future leader
05 April 2017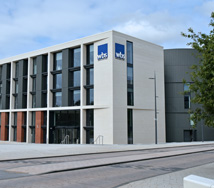 The Full-time MBA attracts students from all walks of life
Some, like Valeriya Balashova, wanted to be taken out of their comfort zone
Others, such as Dr Danilo Di Salvo, wanted to develop as future leaders
Both agree the MBA cohort support each other like family
Students from all walks of life decide to challenge and develop themselves by embarking on an MBA at Warwick Business School.
To better understand what drives our MBA students we spoke with Full-time MBA alumni Valeriya Balashova and Dr Danilo Di Salvo.
Why an MBA?
No two MBA students are the same, with professionals from a range of industries, countries and backgrounds, but they do often share similar motivations for embarking on the course.
Valeriya worked in banking in Russia, mainly dealing with international companies on infrastructural and strategic projects, but wanted to be taken out of her 'comfort zone' in order to further develop herself.
"I decided the MBA would be the thing to make this next step," said Valeriya.
"I wanted to develop my skills and expose myself to more knowledge and networks. Plus, develop my personality and discuss things with people. I found the MBA was a good tool to do this."
For Danilo it was more about developing his skill-set to build on his specialist engineering background.
Danilo added: "Coming from an engineering background I really wanted to learn more about global business and strategy, and learn the skills and capabilities I thought were missing.
"For me, there was a choice of learning this over 10 years on the job, or with one-year intensively out of work. The aim was to develop leadership skills and grow and develop as a leader in the future – to me this was a natural step towards learning how to manage people and how to be a better leader."
Developing skills on the MBA
For both Danilo and Valeriya it was important to develop existing skills as well as picking up new ones on the MBA.
"While doing previous studies I realised I didn't have any presentation skills and the confidence to do them, answering questions or saying no easily – I had to learn to say this," said Valeriya.
"The MBA helped with these skills, how to say no, how to approach people and build on my communication skills in general.
"Overall though, I would say it has also helped to shift my mindset, I still want to work in finance, but I can see other opportunities. Now I know I will be able to shift industries if I want to – never say never!"
Danilo saw the benefit of group work for developing himself.
The Full-time MBA alumnus added: "Working with a variety of people, understanding how to work with different personality types – I learned how to get the best out of myself and the team. We also had the opportunity to do consultancy work, where theory could be applied to a real business case.
"In addition to this, I also had to do a consultancy project, in my case with Rolls-Royce on the future of Rolls-Royce and aviation. This was a once in a lifetime opportunity I gained thanks to the MBA."
Communicate with different people on different levels
An underlying theme for both Valeriya and Danilo is communication.
Valeriya was impressed by the networking opportunities available.
She said: "My advice is to take these opportunities from the start; career fairs and networking events are great, but you need to realise right from the very beginning how vital networking is. You meet people from different sectors, industries and functions, so it is extremely important to attend such events."
Danilo added: "There are so many networks: the alumni network, finance networks, strategy and consulting network, to name but a few. These allow you to mingle with influential people from the sectors – it's an amazing insight into the business of consulting, finance and other sectors."
Biggest Inspiration on the MBA
What motivates people to keep pushing on to do well on the MBA? For Valeriya, it was a very philosophical outlook on life.
"My biggest inspiration – knowledge is infinite, you can never be bored, you can always learn more," she said. "Even if you think you know something, there will always be another way, another angle or aspect that you were unaware of perhaps because you did not have the tools. The studies, the readings and the lectures give you these tools."
For Danilo, people power made the greatest impression.
"To be surrounded by people from different walks of life, sharing their knowledge – it gives you friends for life," said Danilo. "They're like family, we'd all support and help each other.
"To be able to rely on these close contacts looking forward is so beneficial."
What is the best thing about doing a Full-time MBA at WBS?
For Valeriya, Danilo's point on the inspiration of people on the programme definitely rings true and was her personal highlight of the programme.
"For me, the best thing is the people," she said. "Staff, peers, I learned a lot from everyone as they are all willing to share their knowledge - everyone is so enthusiastic, it is infectious. You need this energy, and you can drive yourself on with this energy."
Case study challenge winner
The MBA students have an opportunity to join in with a number of contests and for Valeriya the Case Study Challenge was a great way to showcase her skills alongside her team-mates, especially as they won.
"The challenge was focused on dementia. It was an interesting experience working with these people - being creative and thinking out of the box - as none of us worked in healthcare," she said. "Ours was a simple solution, simplicity was actually its selling point – the judges loved it."
Danilo was part of the support team involved in hosting the Case Challenge event, so the opportunities go beyond participation in such events for those looking for a different kind of experience.
Any tips for people soon to join the MBA?
What are Danilo and Valeriya's final words of advice for those soon to embark on their own MBA journey?
Danilo said: "The MBA is a massive commitment, it's tough but fun. There will be lows, but there will be lots of highs. Learn more about yourself, be self-aware and immerse yourself in the experience - you'll get the chance to meet and learn from incredible people."
Valeriya added: "Don't underestimate the time pressures – be patient, be open-minded, especially in terms of not feeling afraid to be vulnerable."
Find out more about the Full-time MBA by clicking on the following link.