Top German asset manager comes to WBS for latest research
29 October 2012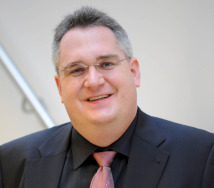 One of the biggest asset managers in Europe was full of praise for Warwick Business School's Frontiers of Finance conference.
Some of the best finance brains from all over the world gathered at Warwick Business School for the annual conference to reveal their cutting-edge research in the fields of high frequency finance, market micro-structure and corporate finance.
More than 120 people from the world of finance were at the conference to hear 70 papers on how they can improve the management of their investment funds.
One of those was Dr Harald Lohre of Deka Investment GmbH, which belongs to DekaBank Group, a leading German asset manager looking after more than 150bn Euros (£120bn).
And Dr Lohre believes the new research comprised in more than 70 papers, chosen from 160 that were submitted, will help Deka improve clients' trade-off between expected returns and the level of risk of an investment.
"The Frontiers of Finance 2012 Conference certainly lived up to its name," said Dr Lohre.
"It provided cutting-edge and thought provoking insights into the current state of the art in econometrics and corporate finance.
"As a portfolio manager I especially appreciated the numerous high quality keynote speakers who delivered excellent insights into a diverse array of research fields of high practical relevance."
Warwick Business School Associate Professor of Finance Ingmar Nolte and his colleagues organised the event and with seven keynote speakers on show, picked out University of Oxford's Neil Shephard's talk on Econometric Analysis of Multivariate Realised QML: Efficient Positive Semi-definite Estimators of the Covariation of Equity Prices as the highlight.

"It was a great success and there was a lot of research that will help fund managers," said Dr Nolte.
"Neil Shephard was particularly good and his work and many others will help fund managers in what is becoming a very complex field.
"This conference will have helped them make more informed decisions on how to allocate money."
Other keynote speeches were delivered by Rui Albuquerque, (Boston University), Marcelo Fernandes, (Queen Mary, University of London), Thierry Foucault, (HEC Paris), Nikolaus Hautsch, (Humboldt Universität zu Berlin), Ulrich Hege (HEC Paris), Terrence Hendershott (University of California, Berkeley) and Asger Lunde (Aarhus University).

Professor Michael Moore, of Queen's University Belfast, said: "Other conferences can be very generic and unfocused.
"The Frontiers of Finance conference is by far the best organised and most concentrated conference in Finance in Europe. Everyone who is anybody is keen to be on the programme."