Get hold of the new edition of Core - out now!
10 October 2016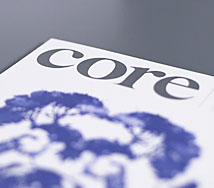 New Core magazine set to hit the stands and be posted to alumni
Alumni need to make sure contact details are up to date to be sent a free copy
Keep up to date with the latest research and business thinking
68-page magazine covers fintech, sharing economy, VW scandal and more
The fourth edition of Core arrives at a time of great change with globalisation under attack and slow growth testing the boundaries of economics.
We take a look at this - asking Has the QE experiment worked? - and a whole lot more in the latest edition of Core, including how entrepreneurs are taking advantage of new technology.
The end of capitalism? looks at how new markets are being established through digital technology, with companies like Uber and Airbnb challenging not only whole industries but creating a new sharing economy. Such disruption could see some companies acquired or merge, but in Dealing with destruction we find that is rarely a value-boosting exercise.
In such turbulent times we interview Chengwei Liu, Associate Professor of Strategy and Behavioural Science, in The skill of using luck - an intriguing concept that suggests business success is more about being in the right place at the right time and realising it.
It is debatable that Volkswagen being embroiled in an emissions scandal was down to bad luck, but we use the German carmaker's troubles to examine how to re-build a brand in When the smoke clears. And it is not only companies that need to look after their brand, but countries too as revealed in Re-building Africa's brand.
Volkswagen's diesel emissions are contributing to climate change, but in Moody models we look at how assumptions have a powerful influence over how those in power tackle it.
As well as affecting the climate, exhaust fumes are an obvious health concern, but in Health stuck in the slow lane we investigate why innovations can take years to trickle down into frontline practice. While Can SMS save the NHS reveals the art of nudging people to make better decisions regarding their own health.
Nudging, based on insights from behavioural science, is cost-effective and highly innovative, something all companies crave, so dip into Five steps to make firms more creative for inspiration. Fintech is one of the most creative emerging sectors and is hinting at a cashless society, you can read more on it in Cash reaches vanishing point. Pingit is a prime example of an innovative Fintech idea and how Barclays produced it is explored, and much more, in Design enters the C-suite.
The tech sector has seen a whole host of entrepreneurs, but what is the right stuff when it comes to making an entrepreneur? The Genetic make-up of an entrepreneur may have some clues.
Of course everything going digital is not without its issues as we have seen with a number of high profile hacking cases and Mark Skilton, Professor of Practice in the Information Systems & Management group, asks Is data privacy ever possible?
A different approach to investment strategies could emerge from Game Theory as explored in It's more than just a game. While in Millennials tip the scales we investigate how a new generation want more from work.
For career aspiration there is the journey of Wasim Khan, CEO of Leicestershire County Cricket Club, and fellow WBS alumni Hugh Thomas, of Ugly Drinks, discusses why he loves his job.
On the theme of self-development, we also look at how drama and behavioural science have been combined to create a new mind-expanding exercise for students in Making sense of ourselves.
If all that is not enough, city guides on Washington DC and Beijing offer some places to see and stay and A book that inspired me to... gives you even more reading material.
WBS Alumni who want to receive the fourth edition of Core due for publication in the autumn please check your details are up-to-date here and a copy should be sent out to your address on publication.
If you are currently not a student or an alumni at Warwick Business School but would like a copy of Core, please visit our Core webpage to download a copy.