Good Tech vs Bad Tech: how it will shape business
18 May 2016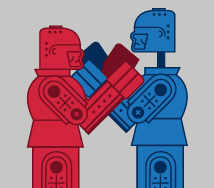 Good tech vs bad tech conference to be held at WBS
Experts to discuss hacking, data privacy, smart buildings and much more
Discussion on the opportunities and threats of emerging new technologies
Follow it on our live blog on the day
How emerging technology like the internet of things and artificial intelligence will create business opportunities and problems will be discussed at the Good Tech Versus Bad Tech conference at Warwick Business School.
Hosted by the Warwick Technology & Energy professional networks on Friday (May 20) at WBS the conference will see a number of talks on how connected technology will pervade more and more aspects of our lives, with the threats and opportunities that entails.
Organiser Mark Skilton, Professor of Practice in the Information Systems & Management Group, says the conference will delve into the dangers around private data and hacking.
Professor Skilton, author of Building digital ecosystem architectures and Building the digital enterprise, said: "We live in times where technology is invading everywhere and creating brand new opportunities, but also introducing new risk and governance issues for policy, business strategy and individuals alike.
"The Apple versus FBI case over personal data privacy, the win by Google DeepMind's AlphaGo against the Go grandmaster, and the intervention by government to add additional security protection to prevent hacking before a national roll-out of smart meters, suggest a shift in the connecting power of technology that is pushing beyond human experience into uncharted consequences.
"We are now growing past the early innocence of Moore's Law – that computer chips would double in power every two years. Technology now is not just about hugely powerful computing, data storage and global networks, but a scaling out and new intelligence that is challenging the very basis of human rights, jobs and competitive behaviours."
The conference will see Xiao Ma, of Warwick Manufacturing Group, discuss the emerging 'personal data economy' and the Hub-of-all-Things - a £1.2m multi-disciplinary project funded by the Research Council's UK Digital Economy Programme.
Ma and a team of researchers are developing the first ever platform for the home - a HAT (Hub-of-all-Things) - allowing householders to trade their personal data collected through connected items, like the fridge or heating as the internet of things grows, which people can then use to get money off bills and buy personalised products and services.
Professor of Practice, David Elmes, will then discuss the future integration of energy demand and supply management and the technology behind it as the UK and the rest of the world move away older centralised conventional generation like coal, gas or nuclear towards more distributed power production, such as solar, wind, marine and other renewables.
Mike Brooman, CEO of Vanti – an organisation implementing and supporting IT, audio-visual and smart building technologies – is a recent winner of the Birmingham Young Professional of the Year 2016 awards in the technology category and will discuss smart buildings.
Dr John Oyekan, of Cranfield University, will reveal the emerging world of digital manufacturing that involves machine learning, artificial intelligent algorithms, robotics, virtual reality and much more.
If you can't make the conference a live blog of the event will be available on the WBS website.
To book your place and for more information on the conference click here.