Hari Tsoukas recipient of two international awards
20 July 2016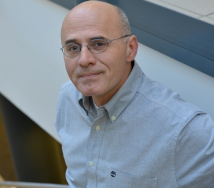 WBS academic Hari Tsoukas receives two international awards
He has received the Joanne Martin Trailblazer Award
This will be bestowed at the Amercian Academy of Management Conference
In a second award he has been made an Honorary Member of EGOS
Warwick Business School academic Hari Tsoukas has received two major international awards.
The Professor of Organisation Studies will receive the Joanne Martin Trailblazer Award from the Organization and Management Theory (OMT) Division of the American Academy of Management, at the American Academy of Management Annual Conference, Anaheim, USA.
OMT is the leading division of the most prestigious professional association of organisational and management scholars worldwide, with its Joanne Martin Trailblazer Award presented once every two years.
"I am humbled by the award. I have always believed that an important part of our research is to renew the vocabulary in terms of which we attempt to understand the problems we research. Complex problems call for a complex language of description and analysis," said Professor Tsoukas.
"The latter will likely emerge to the extent management researchers are willing to forego the narrow confines of their discipline to learn and synthesise insights from other disciplines.
"For me starting new conversations and exploring new ways of understanding through inter-disciplinary research has been enormously important, and I am delighted to see that it has earned credits from our most prestigious professional association."
On Professor Tsoukas being bestowed the Trailblazer award, OMT Division Chair, Professor Philips, added: "Professor Tsoukas has earned this award through his work with the EGOS, involvement with Organization Studies as Editor-in-Chief, 2003-2008, and his key role in the creation of the process conferences - the International Symposium on Process Organization Studies.
"Add in associated books, such as the series Process Perspective on Organization Studies Professor Tsoukas co-edited, which is published annually by Oxford University Press, and you can see many reasons why he was recognised by the committee as being 'trailblazing'."
The second award is an Honorary Membership, which was bestowed to Professor Tsoukas by the European Group of Organization Studies (EGOS) at the 32 EGOS Colloquium in Naples, Italy.
EGOS is the largest and most prestigious professional association of organisational and management scholars in Europe. Each year a scholar of international distinction is bestowed an Honorary Membership. Professor Tsoukas is the 18th Honorary Member.
Professor Ann Langley, HEC Montreal, said in her laudation: "Hari Tsoukas' scholarship, commitment, wisdom and professional virtues more than fulfil the criteria laid out by the EGOS Board.
"In fact, he is not only an exceptional scholar, and a committed EGOSian, but a remarkable academic entrepreneur, an inspiring teacher, an engaged politician as well as a great colleague and friend.
"Hari is an original thinker who has made important and influential contributions to scholarship in organisation studies and to the EGOS community. We are proud to have him as our 2016 honorary member."
Hari Tsoukas teaches Leadership and the Art of Judgement on the Executive MBA and Executive MBA (London).