How an MBA future-proofs graduates
12 June 2015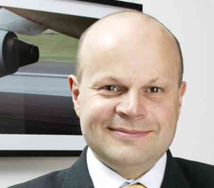 In January 1991 Tim Berners-Lee had just finished the first web servers at CERN in Switzerland to allow scientists to access and share the same information on what he christened the World Wide Web.
A few months later David Bricknell finished his MBA at Warwick Business School unaware that thanks to Berners-Lee the digital age and the internet was about to explode and change the business landscape forever.
And yet far from being left behind in a technology vacuum, Mr Bricknell found his MBA was the perfect preparation to not only thrive in the new digital age, but to build a digital start-up and then run an online company.
As CEO of TenderSmart, an online platform for the sourcing, management and negotiation of tenders and to enable collaboration with suppliers, Mr Bricknell believes the knowledge and skills he gained from his MBA were invaluable.
"When I graduated the internet was not even on people's minds, now it is a crucial component of many businesses," says Mr Bricknell. "Thanks to the MBA I feel I had the repertoire and skill set required to adapt to the digital age without actually knowing the industry.
"My time with TenderSmart really showed how my skills developed. In a way an MBA from Warwick really future-proofs you."
Mr Bricknell was in the automotive industry, but after completing the MBA he moved into software development and the emerging internet age. As of August 2014 he has been acting as a Management Consultant, running management training programmes in Canada and Sri Lanka for a specialist tyre manufacturer and supporting a change programme at the UK and Belgium divisions of a major energy provider.
However, it was the decade spent as CEO of TenderSmart that has given Mr Bricknell the platform for building knowledge of intrapreneurship – the concept of utilising entrepreneurship within the confines of an established company – at a time when the internet was really taking off. Starting with airports he oversaw TenderSmart's expansion into postal, broadcasters, construction, rail and ports.
Mr Bricknell says: "The airports were obviously concentrating on the safety of planes first and foremost, but by bringing me to set-up TenderSmart they really recognised the opportunity to make efficiencies as well.
"Prior to TenderSmart there was not really a culture of using the internet to improve business processes, but we changed all that. I'd been running a B2B business model like this already and with TenderSmart we got a business running from scratch."
But how did the MBA change Mr Bricknell's mindset back in 1991 and encourage him to push himself further?
He says: "The MBA has been useful in different ways at different stages of my career. It helped me shift my mindset from an operational to a strategic one.
"Prior to the MBA I had spent six years in engineering roles focussed on problem solving and never appreciating the wider context. However, following a move to South Korea, where I was a Resident Engineer for two years, I really began to process the ideas of globalisation and my interest for the shift in focus was stimulated.
"Such a change in mindset was a struggle to begin with, but ultimately the MBA really helped complete my switch to a more strategic outlook."
The intense nature of the MBA course allowed Mr Bricknell to immerse himself in a totally different way of thinking and train his brain to become strategic.
"I was totally indoctrinated into things," says Mr Bricknell. "I was flat-sharing with people from different sectors and spending the days analysing laterally, putting problems into perspective, thinking outside the box and truly getting into the strategic mindset.
"I believe the full-time MBA really helps in that way. It takes things way beyond simply reading textbooks and ensures there is no chance of bad habits creeping back in."
As a result Bricknell has the confidence to take up new roles in new organisations and to work with all sorts of professions and personalities as with an MBA "employers know what they are getting in part".
Now working as a Management Consultant, the networking opportunities the MBA offers has become a valuable resource for Mr Bricknell.
He adds: "I am only beginning to explore the network potential around the Warwick MBA. I attend alumni events when I can and act as a mentor on the mentoring program and volunteer my services in other ways.
"I think mentoring is a great thing, students on an MBA course are really committing a lot to the course, so it gives them the chance to use mentors as a sounding board and to keep them focussed. They can also tap into our knowledge.
"The MBA is ultimately a life-changing experience."
Find out more about the full-time MBA here.