How car firms are creating an experience and not just a car
31 July 2015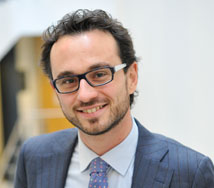 Design has always played a fundamental role in the automotive industry – but now it is not just in terms of making cars look more appealing for drivers, according to new research from Design Council and Warwick Business School.
The research suggests design is increasingly playing a critical role in shifting automotive manufacturers's focus from making products to creating experiences, and in establishing greater collaboration with firms outside the industry according to Pietro Micheli, of Warwick Business School.
Dr Micheli and Haley Beer, PhD student at Warwick Business School, argue in Leading Business by Design: Automotive Sector that industry and consumer buying patterns are rapidly changing, and design could facilitate the shift to a new world where cars will be used, but not necessarily owned, and where digital technology will revolutionise the way we understand and experience cars.
In 2014, the Leading Business by Design study was launched by Design Council to examine how businesses – including organisations not traditionally associated with design – can benefit from it. This year, as a follow up to that groundbreaking report, Design Council recommissioned Warwick Business School to undertake an in-depth analysis of strategic design's impact on the passenger automotive sector.
Building on evidence from the initial Leading Business by Design research, this new report forms part of a suite of 'deep-dive' industrial sector studies.
"Four key themes emerged in our research," said Dr Micheli. "Firstly, design is one of the most important drivers of innovation and competitive advantage; this is being recognised in the industry, for example through the appointment of Chief Designers to company boards.
"Secondly, good design is not just about good looking objects, but also about bringing together different perspectives and people, for example by establishing effective collaborations between traditional automotive and IT firms.
"Thirdly, design can offer automotive firms the capacity to better understand and anticipate users needs, and therefore offer products and services in line with the times. For example, by offering greater connectivity, introducing better user interfaces, and integrating technology that will eventually enable fully autonomous vehicles in a way users understand.
"And finally, such a role could only be effectively fulfilled if designers develop a wider skillset, which does not only comprise traditional 'form-giving' and production technology, but also user interaction, graphic design and service design."
The automotive industry in the UK is now worth an estimated £60 billion, or around three per cent of the country's GDP and 6.7 per cent of the UK's turnover. The industry employs 730,000 people, with 146,000 directly employed in manufacturing. The automotive sector equates to 10 per cent of the UK's total exports.
For the report, the researchers conducted 53 interviews with staff ranging from CEOs and Chairmen to designers and marketers from 12 large and SME manufacturing and service-based companies.
Representatives from the likes of Aston Martin, Tata, Jaguar Land Rover and Bowers Wilkins were interviewed between October 2014 and March 2015.
In the research, presented at Design Council's Leading Business by Design Summit on Thursday June 18, Dr Micheli proposes eight recommendations for business leaders, designers and policymakers.
Dr Micheli added: "Firstly people in and around the industry need to use design strategically. Design in the sector is not just about 'styling': understanding of the market and user is crucial. Design must be able to influence strategic priorities.
"Continuing on that point, a focus on user experience is equally crucial. Users' functional, behavioural and emotional needs should be at the forefront of design.
"Design isn't just about the premium side of things, however, so a third piece of advice is not to just use design for premium products. Design can embody brand values and connect brand promises to customer experience across all price levels.
"Promote collaboration between functions such as design, engineering and marketing as well as end users. Similarly, value different viewpoints across such groups.
"Still on the theme of collaboration, we would recommend automotive firms create clear processes, with few decision-makers, as the rapid changes and developments in the sector, establishing partnerships with new suppliers, especially outside of the sector, will also be crucial.
"Finally it is essential to provide a broader design education. The work involved in design is now far more widespread as discussed in our research. Designers need to be more open to working with different people and thinking more out of their conventional realms."
Pietro Micheli teaches Design in Business on the MSc Marketing & Strategy and MSc Management courses plus Warwick Business School's Undergraduate programme. He also teaches Managing Organisational Performance on the Executive MBA.