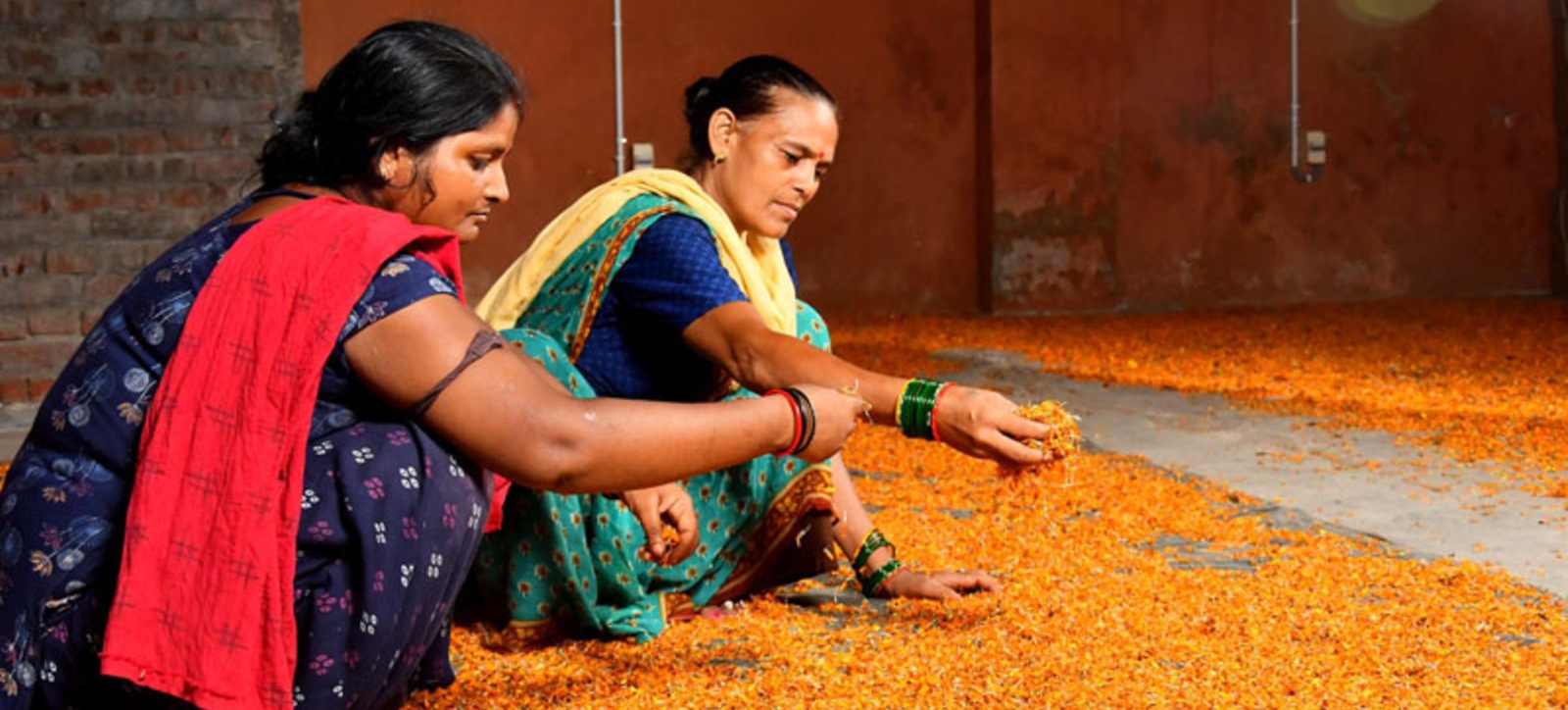 The Ganges is one of the holiest rivers in the world, its shores teeming with flowers and flaming lamps used by pilgrims celebrating religious festivals.
It is also one of the most polluted. More than eight million tonnes of flowers are discarded in its waters each year by worshippers who consider them too sacred to throw away.
But one entrepreneur aims to turn the tide of this environmental disaster.
Karan Rastogi launched his business, HelpUsGreen, to reclaim flowers from the river and recycle them into incense sticks that can be used in future ceremonies.
Karan said: "Flowers dumped in the Ganges may sound like a drop in the ocean, but it amounts to 16 per cent of all pollution in the river. It is choking aquatic life and endangering the ecosystem.
"Worse still, harmful pesticides and chemical fertilisers like arsenic, lead, and cadmium are used to grow the flowers. This mixes with the water, making it poisonous and contributing to diseases like cholera, dysentery, and severe diarrhoea that remain leading causes of child mortality in India."
Karan grew up in the Indian city of Kanpur, on the banks of the Ganges, where the sight of growing landfill sites fuelled his passion for the environment.
But it was not until he studied for an MSc in Business Analytics at Warwick Business School and wrote his thesis on the sustainability practices of Fortune 500 companies, that he realised he could use his business acumen to help save the planet and people in his hometown.
Making religion more sustainable
"I have always been inspired to do something meaningful in life and made it my mission to give something back to society," he said.
"Like many parents, mine wanted me to follow in their footsteps. When I left to do my Master's, it was made very clear that the family business was the only option for me, nothing else.
"When I returned, I went to work at my dad's office, trying to learn my inheritance. This really infuriated me, so I tried to convince my parents to let me find my own path."
When Karan returned home in 2012, he launched his first environmental campaign 'Zero waste to landfill'. It grew rapidly, involving more than 500 schools across the state of Uttar Pradesh and prevented one million pairs of shoes being sent to landfill.
Encouraged by his success and inspired by his regular visits to local temples, he began to grapple with an even bigger problem – how to make religion sustainable.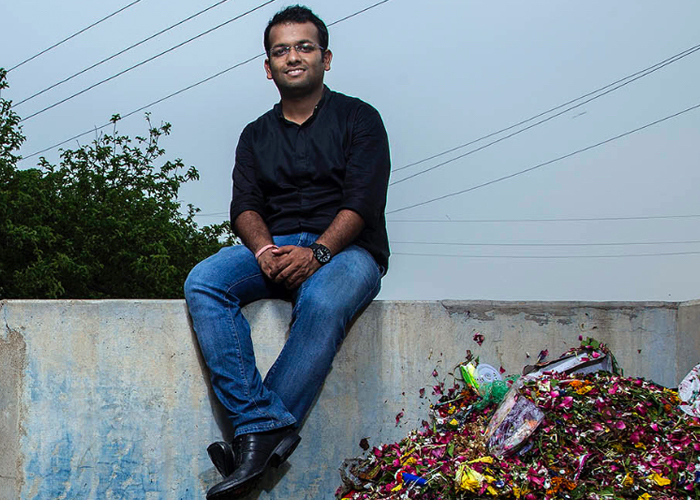 "There are 1.2 billion people in India who regularly shower places of worship with flowers to please their 33 million Gods and Goddesses," he said.
"The flowers are piled up outside the temples along with plastic bags, glass bottles, and the broken statues of Hindu Gods.
"I spent days worrying about it and pondering how we could stop people offering flowers into the river. I realised we couldn't. Offering flowers to our Gods has been a tradition in India for so long and people will preserve those customs, irrespective of the damage it causes.
"What we could change was the way people dispose of the flowers and the repercussions that our customs have on society and the environment."
Karan, now 33, launched his business HelpUsGreen in 2015 with his friend Ankit Agarwal. Their goal was to collect floral waste from religious ceremonies and recycle it into incense sticks, Holi colour powders, and eco-friendly packaging for flowers to be used in future festivals.
Karan's products have an extraordinary unique selling point. The paper packaging is 100 per cent compostable and infused with tulsi seeds so pilgrims can plant it, water it, and watch it grow.
In the last seven years HelpUsGreen has salvaged nearly 7,400 tonnes of waste and prevented more than 7,300kg of chemical pesticides entering the Ganges.
"We call it flowercycling," said Karan. "It is the perfect example of a social enterprise that is enabling the 'circular economy' – one that is restorative and regenerative by design.
"At first, our parents were very hesitant to tell anyone what we did. It was only when we won an award for our work that they started to take us seriously."
Using eco-entrepreneurship can help poor families
The company employs more than 100 women from rural communities, many of whom previously relied on scavenging to feed their families. They are an oppressed community in India, banned from entering people's homes and their children rejected from mainstream schools.
Providing them with meaningful work, payments into proper bank accounts, and medical insurance, is helping them to regain respect after being discarded like the flowers they now recycle.
"What began with the aim of purifying water has blossomed into a profitable social business that is protecting labour rights, empowering women, and reducing both pollution and disease," said Karan.
"We have provided more than 50 rural families with an income that is at least six times greater than what they received before.
"In our manufacturing facility, we provide facilities like clean drinking water and sanitary toilets. Tea is served twice a day. Workers also have access to a bus service and retirement benefits. This might sound basic to most people, but for these workers it's a dream come true."
Karan has won a host of prizes for his work with HelpUsGreen, including a United Nations Momentum of Change Award, a Unilever Young Entrepreneur Award, and a Fast Company World Changing Ideas Award. He was also a Forbes 30 Under 30 winner in 2018.
With COP26 shining a spotlight on the failure of Governments around the world to secure sufficient progress to prevent global warming and avert a climate crisis, eco-friendly entrepreneurs like Karan are providing much-needed leadership and setting an example for others to follow.
"Green entrepreneurs are the ones enlightening the people about waste as a new resource and battling climate change in the most effective manner," said Karan.
"Small initiatives like ours can do wonders for the ecosystem. The problem is that we have become Xerox copies, trying to imitate each other to achieve success. If success was that easy to achieve, everyone in the world would be successful.
"I believe that the young, eager minds sat in classrooms at places like Warwick Business School are filled with innumerable ideas that can change the way we look at the world.
"Teaching those students how to achieve their dreams, helps them to create green businesses that address deep-rooted economic, environmental, and social challenges through innovation and community engagement. That is key to building a better world for everyone."