WBS taster day inspires youngsters to aim high
03 April 2014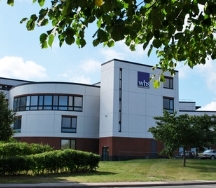 Pupils from six Derbyshire schools were given a taste of life at one of the country's top Russell Group universities as part of a scheme to increase the number of undergraduates from non-traditional backgrounds.
Warwick Business School, which is part of the University of Warwick and ranked in the top 25 business schools in the world by the Financial Times, is determined to show that reaching a top education establishment is not out of reach for these youngsters and to inspire them to aim high.
As part of its widening participation activities Warwick Business School invited 60 year nine pupils from Glossopdale Community College, New Mills School, Chapel-en-le-Frith High School, Buxton Community School, Lady Manners School and Highfields School to sample life at a top-tier business school.
The youngsters were able to quiz current undergraduates about life at the business school, before being given a tour of the University campus and taking part in a business trading game plus a suite of interactive role-playing activities.
They felt it had been a useful experience as they decide which GCSEs to study and map out their future education.
Emily Gorman, 14, of Lady Manners School, Bakewell, said: "I wanted to have a taste of what I could do after my GCSEs and see what university was like. It was not what I expected, I thought it would be serious, but it was a lot more engaging."
Josh Barlow, 14, of Chapel-en-le-Frith High School, said: "It has been a good experience to find out what it is like at a university, it has been enjoyable and interesting."
Louis Fox, 14, of Buxton Community School, added: "I have picked Business Studies for GCSE and I will probably go to university, so I wanted to find out more. It has been a bit different and quite interactive."
Buxton Community School teacher James Ward felt it was a real eye opener for his students and will hopefully inspire them to apply to university.
"Days like these are very important for the students," said Ward. "It opens their eyes to what they are going to be studying and the opportunity that a university can give them. We brought children here from mixed backgrounds, these are our 'gifted and talented' students and quite a few of them are already thinking about university, so this has been a valuable experience for them."
Andrew Bruce, a humanities teacher from Glossopdale Community College, added: "This helps the students understand where the subjects they will study at GCSE will take them."
Warwick Business School Associate Dean for Widening Participation Professor Peter Corvi is passionate about bringing in more students from more diverse backgrounds to Russell Group universities and hopes taster days like this will encourage more of them to apply.
"We are very keen on widening participation," said Professor Corvi. "Research has shown that the most advantaged 20 per cent of young people are seven times more likely than the most disadvantaged 40 per cent to enter the UK's top universities.
"The University of Warwick has a series of programmes to improve access for these pupils. Warwick has generous financial support for students from lower income families through tuition fee waivers and bursaries. We are committed to supporting talented students to achieve their potential and enter the most selective higher education courses."
Click here to find out about Warwick Business School's undergraduate programmes.