Inflation to be less than one per cent for next two years
26 May 2016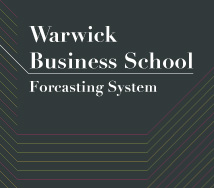 A near-certainty inflation will remain at less than one per cent for 2016
Uncertainty over Brexit has not yet hit GDP growth forecasts
GDP likely to be between two and three per cent for next two years
Though Brexit could change those GDP forecasts
The WBS Forecasting System (WBSFS) expects economic growth in the UK to continue through 2016 and 2017, with the most likely outcome being growth of between two per cent and three per cent.
Any economic uncertainty associated with Brexit has not as yet changed the balance of risks to economic growth relative to its forecasts for the last quarter.
This contrasts with recent downward revisions to forecasts from the IMF and the Treasury's panel. The WBSFS estimates only a two per cent chance of growth of less than one per cent in 2016; and an 11 per cent chance of growth of less than one per cent in 2017. But a vote to exit the EU om the referendum on June 23 could significantly change these forecasts.
The risks to inflation in 2016 and 2017 continue to be on the downside. It is now a near-certainty that inflation will be less than one per cent for 2016 as a whole. In 2017, there remains a three-in-five chance of inflation of less than one per cent and a one-in-four chance of deflation.
Instead of using a single forecasting model or relying on the judgement of the Bank of England's Monetary Policy Committee, the WBSFS combines a group of state-of-the-art econometric models to produce judgement-free macroeconomic forecasts for UK GDP growth and CPI inflation. These forecasts are updated each quarter to reflect the latest data.
By using model averaging, following well-established methods in statistics, meteorology and economics, the WBSFS takes a weighted combination of each models' forecasts, where higher weights are awarded to models which show the better recent forecasting performance. The WBSFS quantifies and communicates the forecast uncertainties by producing probabilistic forecasts.
Commenting on the latest Warwick Business School forecasts, timed to coincide with publication of the latest GDP data from the ONS, Professor Ana Galvao, of the Economic Modelling and Forecasting (EMF) Group at WBS, said: "Any economic uncertainty associated with "Brexit" has not as yet changed the balance of risks to economic growth relative to our forecasts a quarter ago. This contrasts recent downward revisions to forecasts from the IMF and the HMT Panel. The WBS forecasting system estimates only a 2% chance of growth less than 1% in 2016; and an 11% chance of growth less than 1% in 2017. But a vote to exit could significantly change these forecasts."
Professor James Mitchell, of the EMF Group at WBS, added: "The WBS forecasting system points to a sizeable risk that low inflation persists over the next couple of years. It estimates that it is near-certain that inflation will be less than 1% in 2016, relative to a one-in-two chance three quarters ago. In 2017, there remains a three-in-five chance of inflation less than 1% and a one-in-four chance of deflation."
Professor Anthony Garratt, of the EMF Group at WBS, said "The WBS forecasting system is more confident than the Bank of England and HMT that the current low inflation rates in the UK will persist through 2016 into 2017. There is between a 72% and 85% chance that inflation falls below their central expectations for 2017."