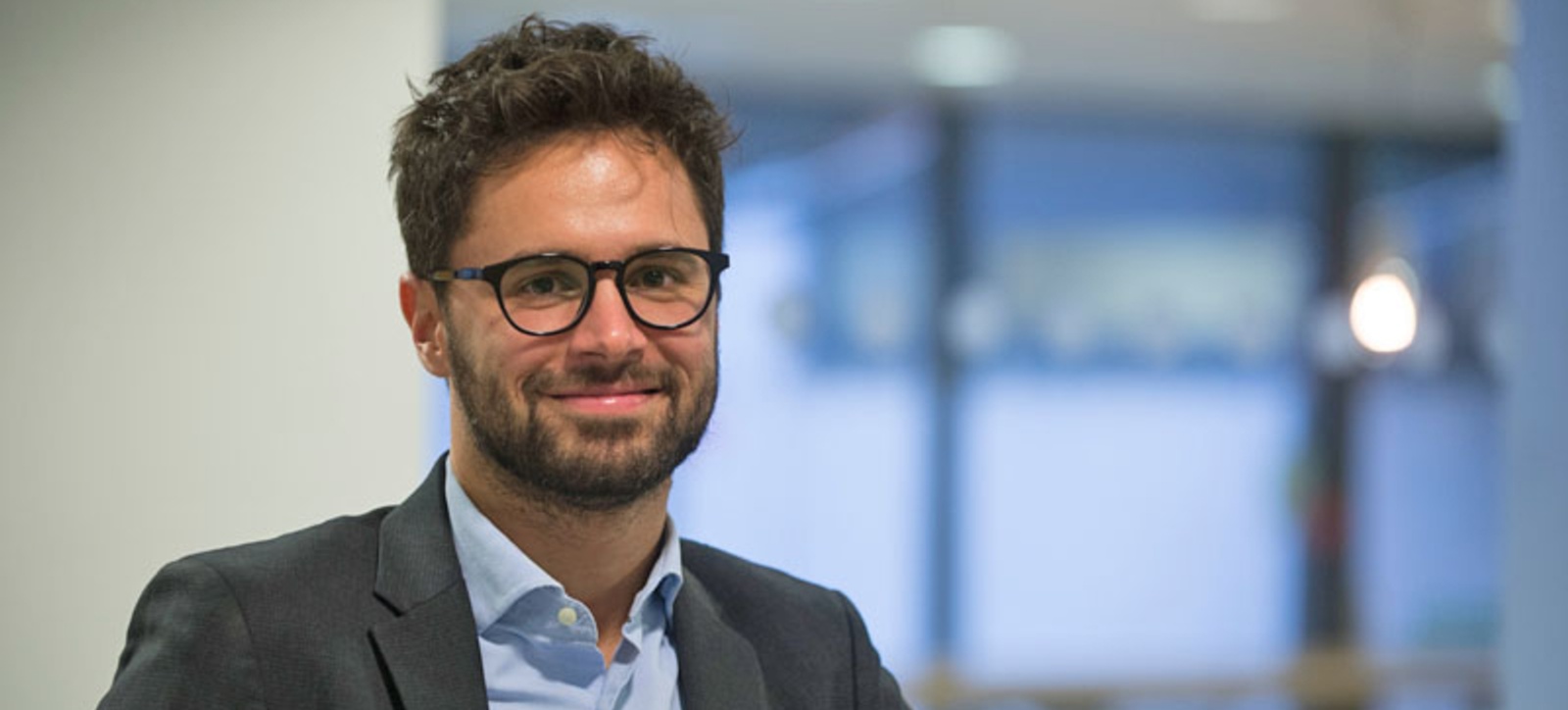 Non-invasive diabetes test could help the million undiagnosed in the UK
Team of six WBS students develop idea at Reload Greece competition
Winning the innovation award has inspired them to turn it into a business
They are now working on a prototye with manufacturers
A team of students have turned their idea to help diabetics into a business after winning an innovation award.
Inspired by the million people in the UK living with undiagnosed diabetes, the team of six designed a non-invasive test called GlucoLive that will help people find out quickly and easily if they have the disease.
Full-time MBA students Adam Pilarski, 35, an NHS doctor, auditor Jacopo Serra (pictured), 32, of Italy, oil and gas engineer Alexandros Papamichaelopolos, 31 of Greece, auditing manager Samantha Gosnell, 30, of the US, marketer Kamal Aliyev, 29, of Azerbaijan, and PhD researcher Aikaterini Grimani, 37, of Greece, are now working with manufacturers on a prototype.
Adam, who was an Orthopaedic Registrar at New Cross Hospital in Wolverhampton before leaving to do the Full-time MBA, said: "Diabetes and its complications can be a huge burden on patients, their families and on healthcare systems, yet many patients go for months or even years without realising that they are experiencing symptoms of diabetes – charity Diabetes UK estimates there are a million people in the UK living with the condition without knowing it.
"My father has lived with diabetes and its complications for a number of years, and went some time with symptoms before being diagnosed. Bridging this gap had been something I'd been thinking about for a long time during my NHS work.
"Often the barrier to diagnosing conditions like diabetes is that testing processes are difficult to access and can miss at-risk groups who don't engage with health services – we aim to make the testing process as simple, non-invasive and non-threatening as possible.
"We hope that our business can help identify patients earlier, empower them to seek treatment before they develop complications of the disease and even engage in exercise and lifestyle changes that might reverse their condition."
A competition at WBS saw the group chosen to go forward to Reload Greece's Young Entrepreneurship Programme, which saw them joined by industry mentor Vangelis Vergetis.
They developed their idea into a costed business model, networked with industry contacts, participated in workshops on 'growth hacking', pitching and intellectual property before honing their pitch deck.
Due to the pandemic pitching was moved online and after presenting their business idea to the Reload Greece judges the WBS group won the Innovation Award.
Jacopo, a financial planner at Duracell before taking on the MBA, said: "We were delighted to win the award – it's great to know that other senior industry professionals see the value in our idea, and it's a great accolade we can use as a stepping stone towards further opportunities for the business.
"Since winning the award we've been able to establish the company and kick-off talks with manufacturers and University partners, using all the skills learnt during our MBA. We're also looking forward to making the most of our prize trips to CERN in Geneva, and Crete when flights resume!"
Samantha, an audit and assurance senior manager at Deloitte before starting the Full-time MBA, added: "The Reload Greece experience has been invaluable in developing our idea from the back of a napkin to a fully-fledged business with clear next steps in terms of revenue streams, market segmentation and technology.
"We had some fantastic input from our industry mentor Vangelis. He really pushed us to think about aspects of the business model we hadn't addressed and helped us hone our pitch deck.
"We are looking forward to developing the prototype now and getting it out to market."