Inspiring others to overcome disadvantaged backgrounds
03 September 2018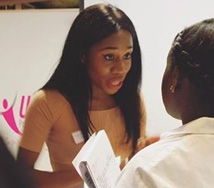 She Who Dreams event at The Shard to help disadvantaged young girls
Organised by undergraduate looking to inspire poorest students
Six successful women will tell their stories and help the next generation
Applications open for 15-19 year-olds looking to realise their dream career
Student Victoria Azubuike is hosting an event at The Shard to inspire young girls from disadvantaged backgrounds to dream big and realise they can aspire to top careers.
Diversity and creating opportunities for those from underprivileged backgrounds is a huge issue for business that many companies are struggling to solve.
Victoria has decided to take things into her own hands and show young girls that their background, whether it is having spent time in care, grown up in a deprived area or attended a poorly performing school, don't have to be barriers to a fulfilling career.
The 21-year-old grew up on Caledonian Road, Islington, London, brought up as one of five children. She qualified for Warwick Business School's Foundation Year for disadvantaged students to do a BSc Management and has since created the Us Programme to inspire young girls from disadvantaged backgrounds to follow her path and reach their dream career.
At WBS London's base at The Shard the programme will be holding its latest event She Who Dreams to encourage 15-19 year-old girls to dream past their current situation.
"We want to help the girls understand that they can do anything they want," said Victoria.
"I know that at times it can be difficult to believe in yourself enough to believe in your dreams, so instead we conform to the demands and restrictions of society.
"The purpose of this event is to free the girls from the 'I can't make it' mentality. The sort of mentality that says that dreaming is only for those who can 'afford' to dream. And instead install in them hope and the determination needed to jump even the highest of hurdles.
"The young girls will meet professionals, who have achieved their dreams. Ladies who have overcome various hurdles along the way by remaining persistent. They will leave with new friendships, and become part of a support network to help them grow and reach their goals."
There will six professionals on hand to talk about their experiences:
Professor Christine Ennew, OBE, Provost of the University of Warwick
Nadine Smith, Global Marketing and Communications Director for the Centre for Public Impact, a Boston Consulting Group Foundation
Pip Jamieson, Founder of The Dots – a networking platform for the creative industry – and named in The Sunday Times Top 100 Entrepreneurs
Mala Mawkin, a final year medical student at Imperial College named on the Forbes 30 Under 30 2018 list for her healthcare research
Tammi Clarke, Youtuber, beauty blogger and cosmetics businesswoman behind MakeupbyTammi
Tolu Adesina, Executive Director at Goldman Sachs
VIctoria added: "There are three kinds of dreamers we will focus on; girls who know where they want to go, but don't know how to get there; those who struggle to dream; and lastly those who prefer not to think too far ahead as they are a little scared of the unknown.
"It was important to me, for the girls attending the event to see a representation of themselves in our panel. Such as Tolu Adesina, who in spite of a difficult upbringing, attended London Metropolitan University and is now a successful career woman at Goldman Sachs.
"Or Pip Jamieson, who proves labels cannot stop you from pursuing your goals, by speaking openly about her challenges with dyslexia. All the speakers will show that there is power in dreaming big and remaining faithful to your goal.
"Currently, diversity is a topic which has navigated its way to the top of the agendas of various organisations. The social and financial gains of having a diverse and inclusive workforce have been found to be highly beneficial by researchers.
"It is no secret that females have been and continue to be underrepresented in various industries, but by equipping the next generation of women with the attributes needed to achieve their dreams, we will see a rise in female leaders.
''I believe that people often seek to learn from those they can relate to. So it's vital that the girls are exposed to individuals who have also overcome barriers and obstacles much like ones they may be facing. We want the girls to develop in confidence, sculpture their personal brand and take assertive strides towards their future.
There are a limited number of places available for the She Who Dreams event, with applications closing on September 8, 10am. Girls aged 15-19 who meet the criteria can apply here.