Instagram set to transform native advertising
17 June 2014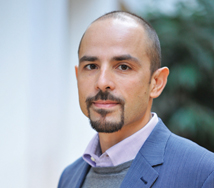 Instagram could revolutionise native advertising after announcing plans to expand its ad operation says Associate Professor Panos Constantinides.
The US mobile photo and video sharing social network will start running adverts in the UK, Canada and Australia after a trial with 10 advertisers in its homeland.
Since 2010 Instagram, which was acquired by social network giant Facebook for $1 billion (£590 million) in April 2012, has grown to 200 million monthly active users and has put in place a series of regulations for advertisers to adhere to, including no product shots, to try to reassure users that their experience will not be hindered.
In a blogpost Instagram said: "We've worked with a handful of top brands to draw creative inspiration from the community and create ads that were engaging and felt natural in people's feeds."
Instagram, who overtook micro-blog posting social network Twitter in US monthly active users in March with an average of 60 million pictures uploaded every day, allowed users to provide feedback on ads and Dr Constantinides believes the San Francisco firm has the popularity and big money backing from Facebook to totally transform how native advertising is done.
Dr Constantinides said: "Instagram could revolutionise the delivery of native style ads and potentially the pricing models for such ads, by providing customised offerings based on what people talk about, do and share on Facebook.
"There are two dimensions to this strategy. First, users should be allowed to actively participate in the way such ad offerings are designed and delivered. At the moment the focus is on delivery alone. By allowing users to participate in the design, Instagram will be opening up the doors of creativity, while accommodating user needs and interests.
"This has been one of the big success factors in other user-led innovation models. Second, this user activity should be added as an additional metric to the target, reach and frequency optimisation models that Instagram adopts to construct their pricing models while offering a more dynamic picture to advertisers as to how those models are built. Once again, this would help justify the pricing models while contributing to the success of the marketing campaign."
Instagram has declared its community-based advertising a success and after initial complaints from users brands seem to like it as well, with Adweek reporting that Taco Bell saw a 45 per cent jump in followers following its month-long campaign.
It has laid down tight controls on what sort of ads are allowed and brands, even turning down potential advertisers according to Adweek, only working with brands who share its passion to set a high bar for creative advertising.
"User-led innovation is a hot trend nowadays and capitalises on the 'intelligence' of the crowd, while at the same time accommodating the evolving interests of different users," said Dr Constantinides, of Warwick Business School's Information Systems & Management Group. "While companies like Threadless, InnoCentive, iStockPhoto and Flickr among others, may be considered pioneers in user-led innovation, more and more companies are acknowledging the power of the crowd in their product and service delivery strategies. Instagram has a great advantage over all of these: it is financed by Facebook and, thus, could potentially tap on the intelligence of a bigger crowd of users.
"Certainly, Instagram, and Facebook, will need to tread carefully with such a strategy given recent concerns over the use of ads in social networks and broader privacy concerns. However, through some initial iterations with key identified users and advertisers, Instagram would be in a better position to start developing a strong strategy. "
Instagram's efforts to boost their ad offerings comes at a time of increasing competition from social media companies like Twitter and Pinterest as they all look to monetise their operations without driving users away.
"What makes Instagram's native style ads valuable is the fact that they flow through a news stream where users see photos one at a time as they scroll through, thus allowing for more exposure," said Dr Constantinides. "At the same time, this approach is also disrupting the user experience as some US users have reported.
"That is why Instagram has set the bar high for creative ads, pushing prospective advertisers to produce high quality, almost print-worthy images that fit the aesthetic of the mobile service. Instagram ads will target people who don't follow a specific brand that wants to advertise on the mobile service. These ads will be differentiated with the word 'sponsored' at the top of the image. Users will be able to hide them by tapping a symbol at the bottom of the photo, which will help filter ads in the future.
"Innovative as it may seem, however, some have questioned the pricing model Instagram is offering to advertisers that reportedly could place monthly fees well into six figures depending on the reach and frequency sought.
"The pricing model could push advertisers to start narrowing their target audience and thus minimising their reach. More critically, by getting the target audience wrong advertisers and Instagram may risk intruding into the privacy of those people that don't want to be reached, possibly risking actual use of the mobile service. So, a question remains, how innovative can Instagram be with their native style ads and should they involve users in the innovation process?"
Dr Panos Constantinides teaches Strategic Global Outsourcing and Offshoring on the Warwick MBA by distance learning and Warwick Executive MBA. He also teaches Digital Business and Workplace Technologies and Global Sourcing and Innovation on MSc Information Systems Management & Innovation plus Digital Business and Workplace Technologies on Warwick Business School's Undergraduate programme.