Interactive map shows scenic spots around the UK
20 June 2016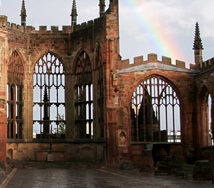 Interactive map plots pictures of 212,000 locations in the UK
Reveals link between reported health and scenic areas
Videos of scenic parts of Coventry embedded into the map
Audio representation of scenicness as visitors move around map
Visitors were able to use an interactive map of the UK in an exhibition at Warwick Business School, set up to illustrate the link between scenic areas and reports of better health.
Coventry City councillors and officials from the Coventry City of Culture 2021 Bid were among the guests who explored the map, which also had films of residents describing their favourite scenic areas in the city embedded into it.
The videos saw locals Keith Draper, Dave Long, Melanie Statham, Kevin Coughlan and Jeremy Parker describing scenic locations in Coventry, such as Coventry Cathedral, the War Memorial Park, Primrose Hill Park, Coventry Canal Basin, Coundon Wedge and Allesley Park Walled Garden.
The interactive map was created by Chanuki Seresinhe and Adrian Letchford, of the Data Science Lab at WBS, and used Microsoft Kinect to allow visitors to move around it just by moving their hand.
Councillor Faye Abbott said: "It is a tremendously innovative project and watching the films made me incredibly proud of Coventry. You don't realise how many wonderfully scenic areas in and around Coventry there are.
"As Coventry bids to be the UK City of Culture it is projects like this that can really help in bringing the community together and showing in a creative way what the city has to offer."
With support from the University of Warwick's Public Engagement Fund and Behavioural Science GRP, Warwick Business School's Data Science Lab collaborated with Tisk Media to create the installation.
The map also allowed visitors to explore England and Wales and experience audio representations of 'scenicness', health, crime, income and pollution measurements as they moved around the country.
Plotted on the map were pictures of more than 212,000 locations in the UK rated for their scenicness by 1.5 million votes gathered by website ScenicOrNot, which is hosted by the Data Science Lab.
High scenicness was represented by violins, high crime by the sound of smashed windows, higher income by jangling coins and poor health by coughing.
The installation was inspired by research by Seresinhe, Tobias Preis and Suzy Moat, who combined the data from ScenicOrNot with data from the 2011 Census and found that people who live in a more scenic area report their health to be better.
"Scenicness does not have to be green as well," said Ms Seresinhe, a PhD student in the Data Science Lab. "We found that in city centres, beautiful buildings with little greenery like Coventry Cathedral also received comparatively high ratings.
"We want to explore more the link between scenicness and reports of better health to find out the reasons behind it. Our hope is that planners and policymakers will take note of this research when designing new urban areas as this could be one way of keeping the nation healthier.
"It has been fascinating to find out about the scenic areas of Coventry and meet the local residents who have been so helpful with the project. It was a pleasure working with them and discovering their pride and passion about the area, unearthing some real gems I didn't know about."
Dr Moat, Associate Professor of Behavioural Science and co-director of the Data Science Lab, who teaches Big Data Analytics on the suite of MSc Finance and MSc Business courses, added: "This research illustrates how data from the internet can help us measure parts of our world we simply couldn't measure before. By analysing this fantastically rich set of data on the aesthetics of locations all across the UK, we have been able to uncover initial evidence that the appearance of urban locations might have consequences for human health and well-being.
"We're keen to help the public and policymakers understand this data too, and for them to help us decide what we should be investigating next. The feedback we received from the exhibition in this regard was excellent."
Dr Preis, Associate Professor of Behavioural Science and Finance Science and co-director of the Data Science Lab, who teaches Behavioural Sciences for the Manager on the Executive MBA, said: "This is the first installation where we have made a large dataset, generated by humans, accessible in both visual and audible form.
"We hope to expand on this in the future, by adding both new data and new interfaces, to provide key stakeholders and the general public with new opportunities to understand the huge volumes of data we are now generating."
Images by George Archer.