International Women's Day: Getting women to the top
06 March 2015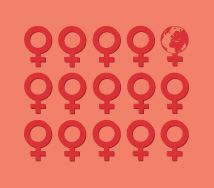 Over the last decade women have been entering managerial positions in roughly the same proportion as men in the UK, but on International Women's Day they remain vastly under-represented in top jobs.
Women make up around a quarter of FTSE 100 boards at non-executive level and less than eight per cent of executive roles.
Plus, Marianna Fotaki, Professor of Business Ethics, says women continue to be paid less than men and the gender pay gap is growing especially in highly paid professions such as accountancy, law, consultancy and business, while even in feminised sectors men tend to be over represented in top paid jobs.
Professor Fotaki says: "Research also suggests that the wage gap starts from day one and grows continuously throughout women's careers, while the 'narrowing' of the pay gap, when it happens, is mostly confined to the early stages of women's careers.
"There are many reasons and explanations why women do not get the same opportunities for career progression and pay as men do. Cultural assumptions stereotyping women as less willing or able and historical patterns reflecting men's social power explain the persistent undervaluation of women's work.
"Behavioural ethics research suggests that many such assumptions are due to an unconscious bias that both women and men share. These concern feelings and knowledge - often unintended - about their social group membership. For example concerning age, ethnicity, gender and class.
"Human resource departments have an important role to play in identifying and acknowledging such bias via training and addressing this in recruitment processes.
"However, much more is needed. Nurturing and developing talented women through fast-track career and mentoring schemes are both pivotal to improving the situation in organisations. Adopting family friendly policies are probably one the most cost-effective measures an organisation can adopt to grow and retain its best female employees.
"There are also different strategies that women can use to overcome their predicament. These include: learning how to successfully negotiate a pay rise, finding a powerful champion in their own organisation, enlisting the support of male and female mentors, and creating and joining peer support groups. Last, but not least, building on strengths while addressing your own weaknesses is a key to success."
Fiona Anderson-Gough, Principal Teaching Fellow, is currently researching how the Big Four accountancy firms are using the increasing public concern about gender equality in their 'war for talent' and whether this is actually making any difference.
"This interview-based research is exploring the experience of managing and changing awareness and acceptance of 'difference' via organisational messages and practices of inclusivity," says Dr Anderson-Gough.
"Our research has found that public messages from the Big Four – mainly through their websites - have changed. The ongoing research investigates how these public messages of inclusivity are actually experienced."
Dr Anderson-Gough alongside Carla Edgley and Nina Sharma, of Cardiff Business School, are looking at how the Big Four are tackling a tradition of embracing white, male, middle-class identity and values.
"Today public messages by the Big Four about inclusivity appear to be tackling that age-old model of a homogenous professional identity," says Dr Anderson-Gough. "The message is that bringing your whole self to work is what is required.
"Yet these diversity messages are being attached to well-established professional motifs, such as the importance of brand, client needs, an iconic culture and networking. Consequently, a shift in professional identity that appears to promote diversity, work-life balance and fairness nevertheless may remain embedded in traditional ideas and ways of working.
"Are these motifs and their implicit power structures sufficiently flexible to really incorporate a range of identities, ways of working and thinking, and priorities? We are asking: is understanding diversity as the 'war for talent' just engineering more of the same?"
If you would like to know more about this research, or if you work (or have worked) in accountancy and would like to take part in this research please contact Dr Anderson-Gough at Fiona.Anderson-Gough@wbs.ac.uk.
Read why advertising is turning women off and how one woman did rise to the top.
Marianna Fotaki teaches Business in Society on the Executive MBA, Business, Politics, Society and Behaviour on the full-time MBA, Corporate Social Responsibility and Business Ethics and Management of Change on the suite of MSc Business courses and Foundations of Corporate Performance plus Governance and Corporate Responsibility on MSc Management. She also teaches Organizational Behaviour on part-time MSc Human Resource Management & Employment Relations at WBS London.
Fiona Andeson-Gough teaches Accounting Inquiry and Accounting in Context on the WBS Undergraduate programme, Issues in Accounting and Research Methods in Accounting on the MSc Accounting & Finance.