James Mitchell tells BBC TV how the West Midlands is bearing up
01 February 2013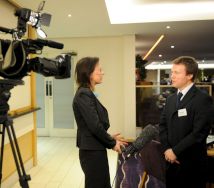 A new economic forecasting unit set up to give an up-to-date picture of the West Midlands economy has found that it has been one of the worst hit regions by the UK's ongoing economic downturn.
Professor James Mitchell, of Warwick Business School, has used figures from the Office of National Statistics and then updated them to give a "nowcast" of each region in the country.
His findings were presented to more than 100 business leaders and MP Adrian Bailey at a West Midlands Economic Forum breakfast meeting at Warwick Business School on Friday.
The meeting launched a partnership between Warwick Business School and the West Midlands Economic Forum to in the future produce a regular update on the economic landscape in the West Midlands.
At the moment regional real output data from the ONS are three years out of date and Professor Mitchell is aiming to bring those figures up-to-date on a quarterly basis for the West Midlands.
Speaking to BBC Midlands Today the Professor of Economic Modelling and Forecasting said: "Our research confirms that a recovery is in place in the West Midlands, but there remains a considerable gap relative to where we were five years ago.
"The West Midlands economy remains depressed, perhaps as much as five per cent beneath its pre-crisis level. Combined with more positive employment data, this implies productivity growth has declined considerably in the West Midlands. It is crucial for long-term growth to reverse this trend. This requires more investment in the West Midlands and improved access to credit.
"Out of the nine regions in England the West Midlands suffered more than most from the economic downturn. But our latest, post 2009, estimates suggest that employment is again rising and growth is returning. But output remains depressed relative to employment suggesting that the productivity puzzle is not just a UK phenomenon but is prevalent in the West Midlands too.
"Productivity has not bounced back as in previous recessions, but there is considerable uncertainty about the data and the productivity pattern. The productivity gap appears to vary regionally and is most acute in London, South East, North East, Yorkshire and the West Midlands.
"There is uncertainty about the current and future path of productivity. Is potential productivity greater than actual productivity? This matters as the size of the current output gap is central to our view of likely future economic growth. If the recession has left a significant scar – and permanently lowered trend growth – then we should expect less of a rebound when things do pick up."
Representatives from Santander, EON, Birmingham Airport, KPMG and other leading firms from the West Midlands were at the breakfast meeting along with Adrian Bailey MP for West Bromwich West and Chair of the Business Select Committee.
Professor Mitchell is now looking to find out more about the West Midlands economy and will produce a quarterly update on how the local economy is growing.
"There is a need at a regional level for this up-to-date data," said Professor Mitchell. "The ONS regional data for real output only goes up to 2009. Yet there have been marked differences in how each region has reacted to the financial crisis so timely regional data is needed for business and government to make robust decisions.
"This is the beginning of our research agenda and I hope improved regional data will facilitate better decisions by both business and government."