John Lewis innovation boss: "Emotion key not technology"
01 November 2016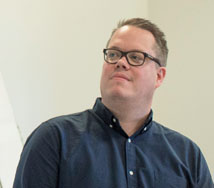 John Vary reveals all about John Lewis' Room Y studio
Innovation is about emotion not dazzling technology
"Human behaviour will influence technology, not the other way round"
Innovation without KPIs key to building new customer experiences
John Lewis Innovation Manager John Vary told Warwick Executive MBA students how important it is for brands to concentrate on using technology to illicit an emotion.
With the world on the advent of what is being called the fourth industrial revolution - the coming together of artificial intelligence (AI), machine learning, virtual and augmented reality, 3D printing and the Internet of Things – organisations are swamped with technological possibilities.
To cut through the myriad options Mr Vary told students to find out how the technology can produce an emotion and let the story be told, rather than being dazzled by the latest invention.
"Emotion is the key," said Mr Vary, echoing findings from behavioural science that our decisions are led by our emotions rather being coolly calculated.
"So many people want to bring in new technology and do more innovation, but my first question is always 'why do we need it?' It has to be able to help people, simplify their already busy lives and surprise and delight them. We need to demystify and humanise it for people in a way that tells the story of how it will change their lives - technology should evoke an emotion.
"It is human behaviour that will influence technology, not the other way round."
Mr Vary joined retail giant John Lewis in January 2015 from luxury fashion brand Burberry and was given the freedom to experiment with no KPIs thrust on him.
"I was told to imagine what the future of shopping could be," said Mr Vary, who has 80 different projects on the go.
"The moment you put KPIs around innovation you lose some of the agility and the willingness to take risk. I am constantly driven, I am self-managed, I don't need KPIs to incentivise me.
"I brought in two people, an engineer and a designer who can both code, and set up Room Y, an innovation studio, where we could create and more importantly build the prototypes rather than having to rely on the business. We don't want to waste time having to talk about ideas, pitch and test them we want to deliver relentlessly."
Though a trained designer Mr Vary says he follows no 'design process' but has instead worked hard to encourage ideas from all 45,000 of John Lewis' staff, holding 'Innovation Kitchens' where any staff member can brainstorm new concepts. He also stressed the importance of building alliances with different departments, so everybody has a stake in innovation and can enter Room Y with an idea.
"I am instinctive, it comes from the gut and measuring comes later," said Mr Vary, who also helps run John Lewis' start-up accelerator JLAB. "It is really important to be open to criticism and judgements. Seb and Alex, who I brought in, had never heard of John Lewis when they joined, which is great because they are constantly challenging me and the company.
"We don't want people to be scared of suggesting something. Some ideas come to nothing, but the company now views innovation as a philosophy rather than a process.
"I am about connecting people and bringing all that energy and innovation together, so I set up a Google+ community where people can evangelise their ideas."
This rapid prototyping led to the 'any shape, any fabric' innovation where shoppers can choose a fabric and then place it on an interactive mat along with a small 3D printed model of the chair or sofa they want. The furniture then appears on a screen covered in their chosen fabric so they can judge how it looks.
"After 12 weeks we had 65,000 customer interactions," said Mr Vary. "We could have tried that in head office for weeks, but getting it in front of customers, observing how they use it, that is how we learn and we've built five or six other projects from it."
Another innovation came at a press launch in John Lewis' flagship Oxford Street store where Mr Vary and his team designed and built a giant 'Head of Design' out of polystyrene. Inside they put an iPad where people took a psychometric test, which delivered a personalised 'mood board' to then shop with.
"It was only meant to be there for four weeks, but stayed much longer," said Mr Vary. "People talk about merging digital and physical, I am not interested in that. It is shopping, it is about curating an experience."