Professor tells BBC: economy can endure stress tests
01 April 2015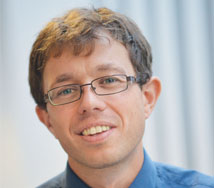 John Thanassoulis, Professor of Financial Economics, has told the BBC he believes the UK economy is robust enough for tough bank stress tests.
Any banks failing their tests will either be replaced by competitor banks or will find ways to tap investors for capital, Professor Thanassoulis commented.
In the face of criticism over the fact it focussed largely on UK scenarios last year, the Bank of England has put a number of new measures into place, taking into account a more global range of scenarios including a collapse in economic growth in China and potential deflation.
Professor Thanassoulis said: "These tests are very tough, and the Bank of England is doing a good job conducting them. The objective is to see whether banks are strong enough to cope even in the event of unlikely scenarios like the slowdown in China and the global recession that might follow.
"This year the Bank has decided to change the scenario – and remember this is a very bad scenario, which we are not expecting, but should be ready for just in case – changing it to include problems coming from abroad into the UK, rather than problems coming from within the United Kingdom itself.
"This new scenario involves a big slowdown in China, global reduction in growth leading potentially to deflation in many countries and it involves, interestingly, in the UK, the collapse of equity prices and more of a focus on commercial property rather than on housing and residential property."
Banks including the likes of Barclays, Royal Bank of Scotland, HSBC and Santander UK will all be tested this year with the results of the tests then published in December.
Under the test scenario, banks will need to be prepared for a 20 per cent fall in house prices over the next five years, compared to the 35 per cent test figure last year.
Should a bank fail the tests, Professor Thanassoulis remains confident there will be another to take over the mantle however.
"In terms of consequences the banks need to have a stronger capital base, so more equity capital than borrowed money, when they lend to businesses and individuals. In principle the banks might not like this, mainly because they lose tax advantages if they raise more capital from equity investors. But these tests are not a bad thing for the economy as a whole," said Professor Thanassoulis.
"However, if a bank can't make a good case to its investors, other banks in this growing economy will be able to come in and take the business off the failing banks. So the system will become robust enough to pass these stress tests, and leave us in a stronger position going forward."
John Thanassoulis teaches Corporate Finance on the Executive MBA as well as teaching Microeconomics on the Finance PHD.