L'Oreal Chairman to hold Q&A with staff and students
23 February 2017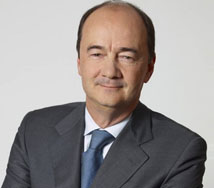 L'Oreal chairman for UK and Ireland to speak to students
Geoff Skingsley has risen up the ranks in 31 years at the company
His talk comes just as L'Oreal begins its 'All Worth It' campaign
French multinational is the world's biggest cosmetics firm with 500 brands
L'Oreal chairman for UK and Ireland Geoff Skingsley will be holding a question and answer session for students and staff on Tuesday February 28.
Mr Skingsley, who has been Non-Executive Chairman of L'Oreal since April 2016 after starting at the company as marketing manager in 1986, will be speaking at the new £19 million Oculus Building on the University of Warwick campus.
The world's largest cosmetics company has just launched its 'All Worth It' partnership with The Prince's Trust, an e-mentorship initiative designed to help boost young people's self-worth and involving a host of stars, including Dame Helen Mirren, Cheryl Fernandez-Versini, Katie Piper and Marcus Butler.
Warwick Business School has recently launched the Warwick Luxury & Innovation hub to research how luxury brands like L'Oreal's Lancome, Ralph Lauren and Giorgio Armani are adapting to the digital age and millennials demands.
Qing Wang, Professor of Marketing & Innovation and head of the Warwick Luxury & Innovation Hub, will be hosting the event.
She said: "Over the school's 50-year history, Warwick Business School has sought to blend academic rigour with insights from industry practitioners in our teaching.
"We are delighted to welcome Geoff Skingsley for this exclusive session with our students, and I'm particularly interested to hear his thoughts on the future of luxury cosmetics given my research interests."
How big a company is L'Oreal?
L'Oreal was started by Eugène Schueller in 1909 and has grown into a multinational company with revenue of €25.257 billion in 2015, 78,600 employees around the world and markets more than 500 brands including Garnier, Maybelline, Redken, and Vichy.
Founded on research and innovation L'Oreal now has six worldwide research and development centres looking into all sectors of the beauty business.
A graduate of Oxford in political science, philosophy and economics, Mr Skingsley started his career in the marketing department of Procter & Gamble.
After a spell as Marketing Manager of the L'Oréal Paris Division in London, he moved to Holland as General Manager, Consumer Products Division, incorporating the L'Oréal, Garnier, Gemey and SBI Fragrance businesses.
In 1994, he moved to India to develop the group there, returning to Europe in 1999 to manage L'Oréal UK before being appointed Deputy Director for Human Resources for the groupin 2004, and the following year, he was made Executive Vice-President, Human Resources.
In January 2012, he was entrusted with the new position of Executive Vice-President of the Africa – Middle East Multi-Division Zone, and in April 2016, became the Non-Executive Chairman of L'Oréal UK and Ireland.
Students and staff can sign up for the event here.