Lady Godiva leads Coventry City of Culture bid event
22 March 2016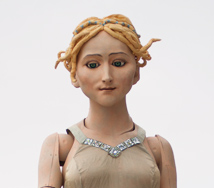 Warwick Business School backs Coventry's bid for UK City of Culture
Event for city's business to get behind the 2021 bid
Imagineer's Lady Godiva leads the event to build support
Host of local talent and stars gather at the school
Imagineer's 20ft tall mechanical Godiva symbolically welcomed the region's business and civic leaders to a special event at Warwick Business School.
Guests were treated to performances from artists and groups from across the city that demonstrated some of the strengths of Coventry's ambition to win the bid to be the City of Culture for 2021.
The event, designed by Vortex Creates, also included performances from The Chinese Orchestra, Ruder than U, Celtic Feet and Iain Lauchlan.
Coventry City Council, the University of Warwick, and Coventry University are Principal Partners of the bid and are providing significant support including the hosting of the event to build further business engagement in the bid.
Jonothan Neelands, Professor of Creative Education and Research Lead for the bid, said: "The City of Culture competition gives us the chance to bring together local government, the business community and the Universities to support the people of Coventry in building a more prosperous, vibrant and attractive city in which to live, work and study. This is a great opportunity to build lasting partnerships and to dream big for Coventry's future."
University of Warwick Vice-Chancellor, Professor Stuart Croft, said: "The City Council and both of our city's universities were very quick to respond to the call to support this powerful bid to make Coventry the UK City of Culture for 2021 by serving as Principal Partners of the bid.
"Both myself and Coventry's Vice-Chancellor John Latham are already very aware of just how much culture and creativity is packed into Coventry, and this bid gives us an ideal opportunity to help our city to showcase that to the rest of the world."
David Burbidge, Chairman of the Coventry City of Culture Trust thanked the City Council, the University of Warwick and Coventry University for their agreement to become Principal Partners and said: "There is a great feeling developing in the city regarding our bid for City of Culture. People are beginning to see the very positive difference it can make to Coventry.
"This gathering comes hot on the heels of the announcement that the Ricoh Arena will be the official bid sponsor in the run-up to 2021 and I know its generosity will also encourage more companies to support the bid.
"It's vital that our city gets as much financial and other support for the bid as possible and this event was designed to let everyone know how they can come on board and help.
"There are opportunities for smaller companies to support us financially by the way we are structuring the sponsorship packages as well as the more substantial backing such as that which we have seen from the Ricoh Arena.
"We were very grateful to Warwick Business School for hosting this event and for giving us the platform to deliver this message to many key figures from the region."
Pictures by Michelle Tennisons