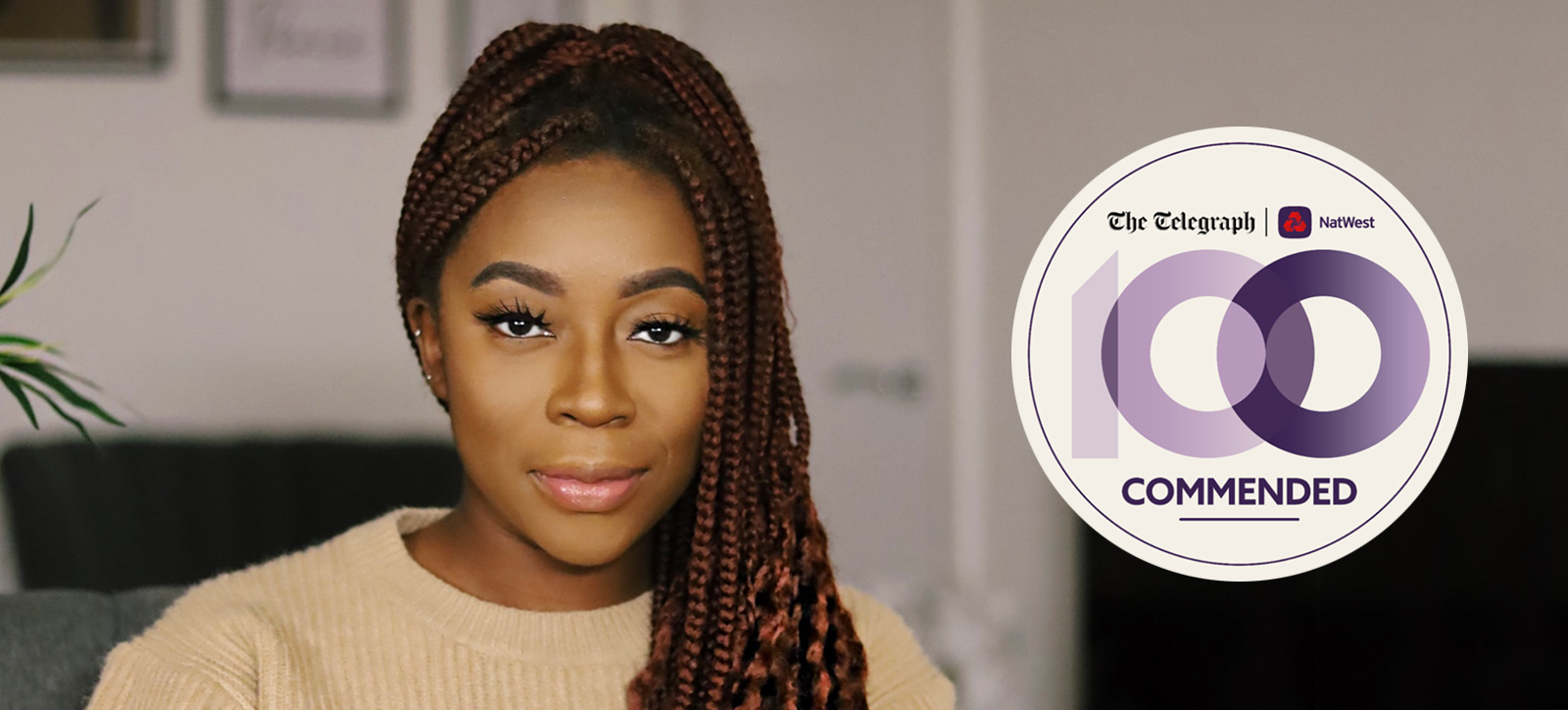 Business acumen: Toyosi Olowe believes studying a BA in Law and Business Studies at Warwick is paying off
Just as her sales were beginning to take flight in the art world in 2021, graduate Toyosi Olowe was asked to paint a picture of the moment a gymnast springs into the air, twisting, turning, somersaulting, while defying all the laws of gravity.
And, immediately, she knew how the gymnast felt.
"I was living through such a crazy period of my life, like I was being suspended in mid-air, not really knowing how I was going to stay up," the Warwick Business School alumna says, as she reflects on her own experience as a young artist and businesswoman soon to win the endorsement of Hollywood celebrities and The Telegraph, which included her in its Top 100 List of Female Entrepreneurs to Watch.
It all started during the Covid pandemic. The Nigerian-born Londoner had quit a corporate job at KPMG at the end of 2019 and in January 2020 had received a verbal offer of another job. But then the pandemic hit, the offer was retracted in a swift recruitment freeze, and she was left with a mortgage to pay on her studio flat in London, and with no means to pay it.
"It was do or die," Toyosi remembers. "But I had a plan, and that plan was to return to my first love."
As a child she would sit for hours drawing pictures and losing track of time. During her school years, art had been one of her favourite subjects and she had often attended art summer schools.
So, compelled to stay for most of the time in her apartment during the first 2020 lockdown, she knew what to do, and it wasn't staring at four blank walls. It was sitting on her balcony, quietly gazing at the stars in the night sky, in the sort of reverie that she remembered from childhood, and thinking how she could fill those walls, and how she could make a business out of it.
Her modern art décor brand – Toyo Writes (TW) – was born.
E-commerce beginnings
"Things took off very quickly after that," Toyosi says. "I started posting my artwork on Instagram, and it got noticed and reposted."
"I remember getting over a thousand followers in 24 hours, and it just kept growing and growing."
As a result, the commissions began to pour in. And from some very unexpected quarters. Soon, she was shipping artwork to Los Angeles for Hollywood actresses Meagan Good and Grace Byers. What had started as an e-commerce business was quickly scaling up into the selling of major pieces of art, many going for £10,000-£15,000 a time.
"It still blows my mind today and I'm so grateful", says the 28-year old graduate. "I now have art collectors in Silicon Valley as well."
Then there was the gymnastic commission. "A gymnast saw my work at one of my pop-up exhibitions at a Boots event space in London, and she threw me the challenge of producing a complex painting that she could hang in her room."
The challenge was to portray her in one of her aerobic positions in the air but also to add a 'TW' touch of style to it. After a number of design drafts and meetings, the piece was executed. Called Stronghold, it shows the gymnast suspended in mid-air but held up by delicate white satin drapes.
Surviving and thriving
It was at this point that Toyosi was finding all her success a bit overwhelming. After all, 20 per cent of start-ups fail in their first year of trading, and 60 per cent do not make it past three years. The figures are even starker for Black-owned businesses with only two out of 10 surviving more than 18 months. So, after soaring so high, how would she stay up?
The answer, she believes, lies in three factors: the business acumen she built up as a student at Warwick Business School, her involvement in 'live scribing' at KPMG, and her faith.
"There was a lot of family pressure on me to study Law at university, but I wanted the options that a joint degree could give, so I decided to study for the BA Law and Business Studies degree at the University of Warwick," the entrepreneur says.
Landing a job at KPMG in the summer of her final year at Warwick in 2016, this strategy obviously paid off in the short-term.
However, it was in the running of her own start-up that she believes her Law and Business degree really came into its own. With pop-up exhibitions at Boots, the Barclays Moorgate space, Westfield Shopping Centre, HSBC at Canary Wharf, Google, and John Lewis, among others, her marketing efforts clearly now go far beyond the social media that gave her the first break.
"What I learnt at Warwick Business School has come firmly into play in terms of understanding marketing partnerships and client engagement."
C-suite inspiration
The fact that she feels at home in event spaces is also due to her live scribing experience at KPMG. "Live scribing is an event type environment," she says. "Put simply, I know how to decorate and stage a room."
Toyosi started life at KPMG in Canary Wharf as a UX designer, but "it was a beautiful full circle moment when I stumbled upon the creative scribing team".
"Although I was self-taught, everyone at the firm knew I could draw and often came to me for private design work, such as wedding filters. However, it was the creative team who gave me specific training."
The training took her to the meetings of C-suite executives, capturing the key points of their conversations with clients by producing illustrations and written notes on a 'knowledge wall'.
"This was the moment I fell in love with art all over again and I realised the possibilities," the WBS alumna says.
Flying high
It is also the moment that gave her the confidence to take "the scary leap of faith" as she launched her own modern art décor business. Inspired by her live scribing, she started off with affirmation posts on Instagram, but very quickly expanded into the eclectic mix of artistic endeavour she has become known for – from custom-made artwork and menu cards for hotels and restaurants to her vibrant wall paintings.
Her artistic tools have been eclectic too – from paint and easel to digital design and calligraphy pen. At heart, Toyosi sees herself as a scriber who creates pictures, hence her brand name, Toyo Writes.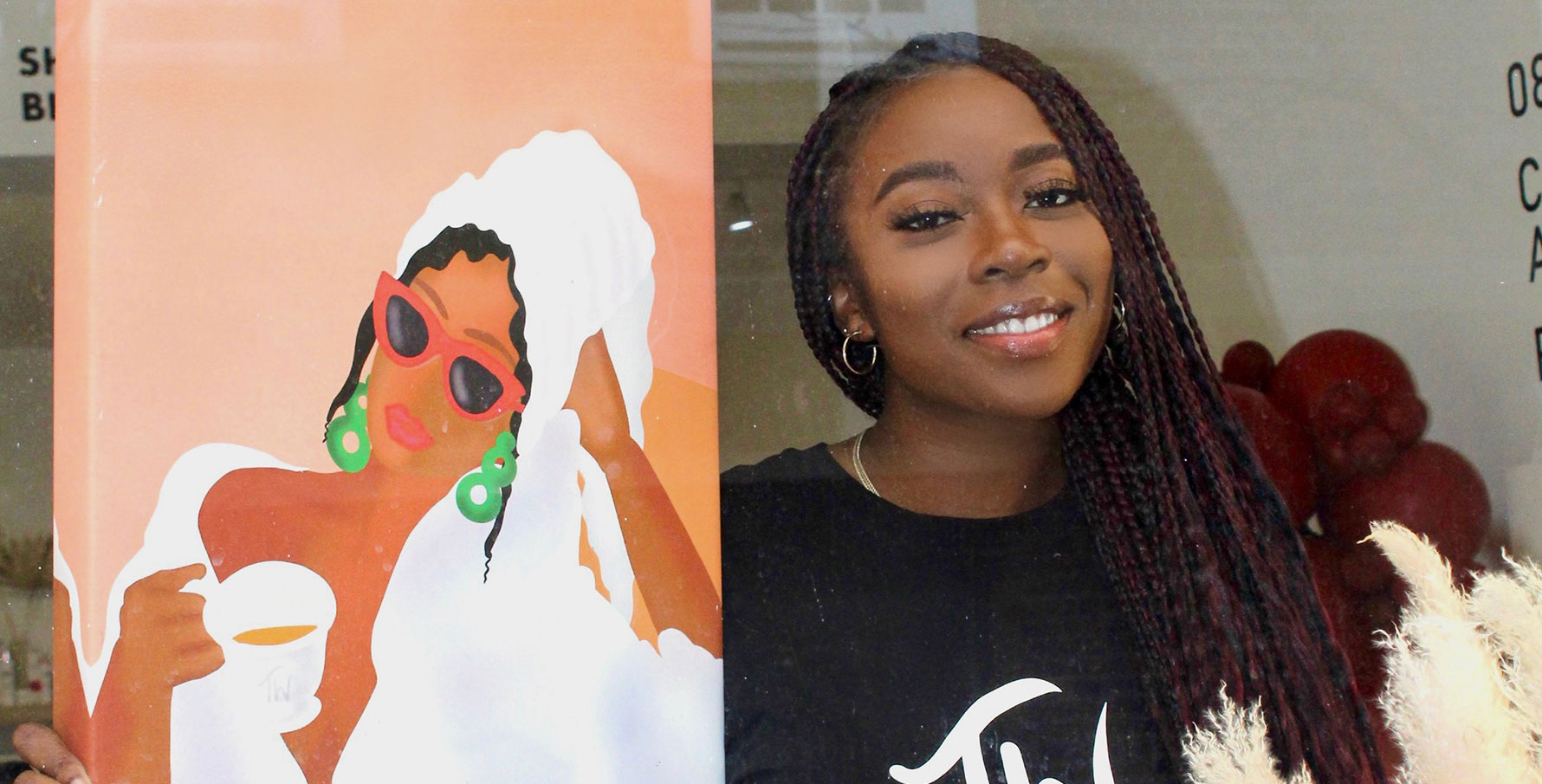 Stylish artwork: Commissions began to pour in and from some very unexpected quarters
There is increasing awareness of the brand. With a team of two now working with her, the WBS graduate has more time now to focus on her marketing efforts, and has recently returned from a trip to Dubai looking at the opportunities in the hotel and real estate markets there.
With the enterprise now turning three, Toyosi is proud of her achievement. "The business has overcome all the odds, and is now set on scaling further," the entrepreneur says.
Her marketing efforts have been assisted, too, by The Telegraph's listing last November of high-achieving, entrepreneurial women and the subsequent networking event at the House of Commons.
This helped her to attract more high-end clients, "which was really helpful because it was a tough time when I started".
She does not forget those early days. "I felt so lost at one stage, especially during the isolation of the pandemic, but my faith in my work, and my faith in God, pulled me through."
She took a leap of faith, and it will sustain her, in all likelihood, as she continues to fly high.
WBS joint degrees are offered in collaboration with other departments at the University of Warwick. WBS is no longer running the BA Law and Business Studies degree.