New two-day course to teach managers how to lead wisely
25 March 2014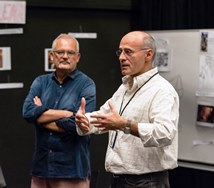 Being wise after the event is something we can all be, but how about being wise before it?
Warwick Business School has put together a two-day course which takes place on July 15 and 16 that will help managers and executives do just that. Wisdom may come with experience but by using case studies, drama performances and role play exercises, managers and executives will be helped to appreciate the complexity of practical dilemmas and, crucially, learn a few useful tips on the Leading Wisely course.
Human affairs are not straightforward
Professor Hari Tsoukas said: "Leading people involves more than just an analytical mind; human affairs are not straightforward, and this course will help you understand that. Using drama we will allow managers to see all 360 degrees of a problem, open their eyes to other viewpoints. Participants will not only think, but feel and sense the roles involved."
The course aims to make business leaders more aware of, and gain insights into, the judgements they make, how they make them, and how they might improve their judgement-making. Exercising judgement is an art, which requires a sharp perceptive ability, a concern for the broader good, and mental flexibility.
Active and creative education
As well as analysing the process of making judgement calls, the course will involve getting people out of their seats to re-enact scenarios and using drama to explore the art of judgement.
Professor Jonothan Neelands, Professor of Creative Education at WBS, said: "Participants will be strongly encouraged to reflect on their business experiences and explore their role in co-creating them. The focus will be to revisit experiences in such a way as to understand better their shape, their processes of formation, and the outcomes they led to. A drama workshop offers the opportunity to see a situation from different points of view. How do we balance our own judgement and our own leadership with the necessary voices of others? We will ask people to reflect on that both as team members and potential leaders."
Develop a capacity for wisdom
Professor Tsoukas insists that the capacity for wisdom is something that can be developed and sharpened, and this course will give business leaders valuable insight when they approach a judgement call with an uncertain and incomplete picture.
"To lead wisely is not seen as the exercise of a particular technique," said the Professor of Organisation Studies, "but as the manifestation of a certain character. Exploring how such a character may be built is an important part of this course. Underlying leadership is a very basic ability to make good judgements, weighing up different options when confronting situations of conflict, ambiguity and messiness. To do this you need to first capture the uniqueness of the situation, and second realise the general principles that will enable you to act responsibly."
Leading Wisely is a residential course and takes place on July 15 and 16 2014.
For further information you can see the course web page, or contact Sarah Palmer, Business Development Officer, on +442476 572543 or by email at sarah.palmer@wbs.ac.uk. Or you can register here now.