Loizos Heracleous scoops overall winner at the 'Oscars' of publishing
25 February 2013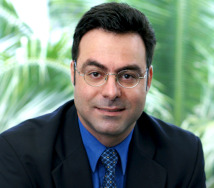 Warwick Business School has scooped one of the top education awards after being named as the overall winner of the annual case awards held by the European Case Clearing House.
It is the first time the school has won the award for case study writing from the European Case Clearing House (ecch), which holds the world's largest collection of case studies, with more than 82,000 items in its catalogue, on all aspects of business and management.
WBS joins an illustrious list of overall winners that includes top US school Harvard Business School, France's INSEAD and Switzerland's IMD.
The winning case was authored by Professor Loizos Heracleous and his Phd student Angeliki Papachroni and is entitled Strategic Leadership and Innovation at Apple Inc.
Professor Heracleous said: "Case studies are indispensable for teaching, especially subjects such as strategy where judgement and holistic understanding are essential.
"The Apple Inc case study provides a context where fundamental concepts such as leadership, alignment, innovation and competitive advantage can be explored and debated, with reference to an organisation everyone is familiar with.
"The level of cognitive challenge can be tailored to the type of audience, and the extensive instructional notes provide several potential avenues for discussion.
"We are delighted and honoured to have been recognised by the ecch and by our colleagues around the world who employ this case."
The case study and Professor Heracleous' teaching notes will now be stored by ecch for other schools, universities and other organisations around the world to use to teach students.
The ecch Case Awards are presented annually to recognise worldwide excellence in case writing and to raise the profile of the case method of learning.
The awards (formerly the European Case Awards) have been presented since 1991. Awards are made in up to nine management categories; for one overall winning case; two case writing competition categories for a case by a new author and for a newly authored case on a 'hot topic'; a competition category for innovation in case teaching; and to recognise the outstanding contribution of an individual associated with the case method.
Professor Mark Taylor, Dean of the Warwick Business School (WBS) said, "The achievement of Overall Winner of the ecch Case Awards by Loizos Heracleous and Angeliki Papachroni illustrates the impact WBS is having on business education worldwide.
"Strategic Leadership and Innovation at Apple Inc has already been used by 31 organisations in 17 countries. We are delighted with the award and the recognition it gives to the creation of new knowledge at WBS and the importance we place on enabling a classroom experience of the highest quality."
Richard McCracken, Director of ecch said: "This year's Awards show how the art of case writing and teaching is being practiced at a high level at ever more business schools across the globe. Schools that traditionally excel in the Case Method are still producing winners, but no longer dominate the Awards. Case teachers worldwide are innovating and looking beyond tried and tested school brands and teaching approaches to identify and develop powerful and relevant new materials and ways to use them."
Professor Loizos Heracleous teaches Strategy and Practice on the Executive MBA.