Loizos Heracleous tells Sky News Apple might need a cheaper iPhone
25 April 2013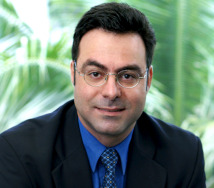 Professor Loizos Heracleous told Sky News Apple might need to produce a more affordable iPhone to boost growth.
Professor Heracleous has done extensive research on the company revealing its 'Quantum Strategy' in a paper for Organizational Dynamics and after Apple's reported its first fall in profits for nearly 10 years he believes the technology giant might adopt a new strategy as competition in the smart phone market intensifies.You can read more about his paper in our magazine, Core, available to buy now..
Apple announced that its profits for the second quarter of the financial year - the three months to the end of March 2013 - were down £1.38bn to £6.27bn.
The company sold 37.4 million iPhones in the quarter, compared with 35.1 million in the same quarter the year before, but sales are slowing more quickly than analysts expected.
Professor Heracleous, a Professor of Strategy at Warwick Business School, said: "Consumers' purchasing power is limited, therefore, they are tempted to buy these competing products.
"Apple is growing fast in China, but it might grow even quicker if it offered a more affordable iphone but that was still more expensive than competing products in order to maintain the perception of superiority."
Despite the fall in profits Professor Heracleous believes Apple, which also announced it will buy back $100bn of shares, is still in a strong position.
"Before we write Apple off with premature assessments, we need to appreciate that its so-called disappointing performance is still extraordinary by many measures, and that it has the capabilities to keep winning in its markets, which it may yet redefine with more blockbuster products," said Professor Heracleous.
"Lower margins would be expected given Apple's rising sales in emerging economies, introduction of iPad mini and appearance of more competing products that are much cheaper. The 37.5 per cent gross margins in the markets where Apple operates are still extraordinary.
"Further, its products are on different stages of the product life cycle, a pretty robust risk management strategy."
Professor Heracleous believes that even if in the long term Apple has lost some of its innovative edge its substantial liquid assets still give it an advantage in the technology market.
"The main issue for the medium and long term is whether Apple has sustained its innovative capabilities, which seems likely given that it's part of the company's DNA. But the proof will be in the pudding, and we'll know over the next 12 to 18 months," said Professor Heracleous.
"What many forget though is Apple's safety net of $147bn cash and liquid assets. Apple could easily buy any new technologies that appear to pose a threat to it, that offer synergies to its own offerings, or that can open up new markets for it.
"Stock markets react, and sometimes overreact, immediately, but what matters is the big picture and Apple seems to be on a solid footing by that measure."
To watch Loizos Heracleous on Sky News click here.
Professor Loizos Heracleous teaches strategy and practice on the Warwick Executive MBA and the MSc Marketing and Strategy courses.