London cemented as world's FX centre with China deal
17 October 2013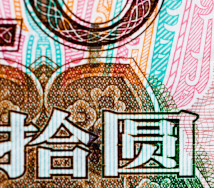 Professor Michael Moore believes the UK has made a shrewd move in tying up foreign exchange agreements and relaxing bank requirements with China.
Chancellor George Osborne announced that the two countries will have direct trade between the renminbi and sterling, while Chinese banks will be permitted to set up branches in London after being previously deterred by the regulations pushing them towards making them subsidiaries.
Mr Osborne also agreed a quota of Rmb80 billion (£8.2 billion) for UK financial institutions to invest in Chinese securities.
Professor Moore feels the agreements will allow London to profit from China's growth, especially as it has already agreed direct currency trading with the US dollar, yen and Australian dollar.
Professor Moore said: "This is a good move by the Chancellor for London to retain its status as the world's centre for foreign exchange trade. London has 40 per cent of the foreign exchange trade. The next is New York with 20 per cent and after that no other centre has above 10 per cent.
"The Chinese are trying to internationalise their currency and the Rmb is a growing market."
China has been making swap deals with currencies across the world in an effort for the Yuan to one day over take the US dollar as the currency of choice for foreign exchange trades. It recently announced a 45 billion euro swap with the European Union so now Eurozone countries won't have to convert to dollars and the yuan; they can go straight to the Rmb.
Professor Moore, who worked with the Central Bank of Ireland before moving into academia, said: "China sees this policy as another step in taking over from the US as the number one economy in the world.
"If China's aim is to make yuan the international currency of choice, this deal with the European Union is a good start but they need to do a good deal more. You have to remember the daily turnover in the foreign exchange market is US$5 trillion, so 45 billion euros is really a drop in the ocean.
"It enables the People's Bank Of China (PBOC) to have a stash of euros for its traders, but it is going to be used up incredibly fast, so unless they are going to be replenishing it and do more of these deals, it is going to be pretty small beer.
"The PBOC are doing deals like this all over the world. It is a very aggressive policy and it is an unusual one as this is a political policy. The euro is not emerging as the international currency, but the yuan has ambitions to take over from the US dollar, they have been impressed by how the US dollar has done this and this is a very aggressive way of trying to take it over."
The Rmb maybe slowly knocking the US dollar over country by country, but in terms of the foreign exchange market London remains the centre of the world and Mr Osborne's deal with China will have cemented that position according to Professor Moore.
Hong Kong has become a real challenger in recent times but Professor Moore believes this deal will be a blow to Asia's most modern city.
"Hong Kong has been aggressively stealing markets from London," said Professor Moore. "For instance London has been the centre of wine trade for 1hundreds of years but that has now moved to Hong Kong and they did that in just three years.
"If Hong Kong gets the US dollar/Rmb market then other trade will gravitate there as well. London has the infrastructure in place and making things easier for the Chinese banks will help keep that market in the UK capital.
"There might be concerns that the Chinese banks, which are mainly state-owned, are not as well regulated, but they will be trading in Rmb and given the importance of the market this is a compromise worth taking."
See this article featured in CNNMoney and China Daily.
Professor Michael Moore teaches International Markets on MSc Finance & Economics and Financial Markets on Warwick Business School's undergraduate courses.