Luxury & Innovation Hub launch: Digital age brands
27 June 2016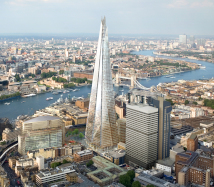 New Warwick Luxury & Innovation Hub to use academic and industry insights
Hub will examine the future of the luxury sector in the digital age
Sector faces challenge of millennials' lack of interest in luxury brands
Will partnerships with the likes of Nike signal new rivals entering market?
How do luxury brands attract Millennials when they are turning to the new sharing economy?
That is one of the questions that will be examined by the Luxury & Innovation Hub's launch event at WBS London, at The Shard today.
Involving academics from Warwick Business School and the University of Warwick, the Luxury & Innovation Hub launch will see executives from Maserati, Ogilvy Public Relations and luxury brand investor The House of Britannia discuss the future of the sector in the digital age.
Millennials – those born between 1980 and 2000 – have grown up in the digital world and are now entering their peak spending age, but research and surveys have found they are not as materialistic as their parents, and are not as interested in buying cars or luxury goods, while being 'connected' 24/7 means a different relationship with brands.
Qing Wang, Professor of Marketing and Innovation at WBS, said: "The millennials were born and have grown up in the internet age.
"They have a big spending power, but they are not attracted to the traditional luxury model as indicated by the decline of many luxury brands.
"Gucci's sales and profit jumped due to a new creative design concept, which engaged with the wealthy millennials.
"Does this indicate a completely new opportunity for the future of luxury or, as the journalist and luxury writer Dana Thomas argues, has 'luxury has lost its lustre?'
"It is a big issue for luxury brands and one the Luxury & Innovation Hub will be examining.
"The luxury sector has been further complicated by the UK's decision to leave the European Union. This has already hit shares in luxury brands, with Dior and L'Oreal falling seven per cent, and will have an adverse impact on the image of Britain being an open and welcoming place for tourists and businesses from emerging countries like China."
Professor Wang will be joined on a panel of experts by Steve Aldridge, Executive Creative Director and Chairman of marketing consultants Partners Andrew Aldridge; Peter McNeill, Professor of Design History at University of Technology Sydney; Simon Petherick, Managing Director at The House of Britannia; Giorgio Riello, Professor of History and Director of the Warwick Institute of Advanced Study, and Paurav Shukla, Professor of Luxury Brand Marketing at the Glasgow Caledonian University.
Nicole Wang, Director of Ogilvy Public Relations Worldwide, and Karin Haferkorn, Public Relations & Social Media Director at Maserati, will deliver keynote speeches.
As well as the challenges of the digital age the Luxury & Innovation Hub will look at how collaborations are adding value to luxury brands.
"We have recently seen collaborations between Apple and Hermes and Nike and Louis Vuitton," said Professor Wang, who teaches The Diffusion of New Products and Technologies on the MSc Marketing & Strategy. "Is this a new way of boosting a brand's appeal or are these marriages doomed to failure? And will Apple, Tesla, and even Nike be the new rivalries in the luxury sector?
"We will also examine the dominance of Western luxury brands and whether that will continue with the rise of China.
"The globalisation of luxury is also presenting problems for brands and potentially undermining their authenticity, especially as different cultures tend to interpret the cultural value and meaning of brands differently. How are brands changing their business models for emerging markets?
"These are interesting times for luxury brands and the Luxury & Innovation Hub will aim to promote evidence-based debate and generate new insights on this important interface between luxury and innovation, while providing a meeting point and network opportunity for academia and industry."
For more details on the Luxury & Innovation Hub launch event click here.
You can follow the Luxury & Innovation Hub launch live on the WBS website from 1pm today.