Mark Johnson tells the BBC buying 'local' is best
18 September 2013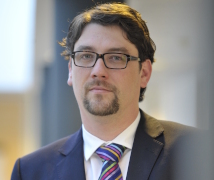 Associate professor Mark Johnson has told BBC listeners to stick to local produce if they want to be sure about the provenance of their food and products following Tesco's latest issue over its supply chain.
The BBC tested two pork chops bought in Salford and bearing the Red Tractor logo that labels items produced and packaged in Britain. The results revealed the pork was highly unlikely to have come from the UK and probably came from Holland.
Tesco, who said it was "extremely disappointed", was supplied the pork by Cranswick Country Foods, who reportedly said it had reviewed its systems and had told its customers they could be confident its products were correctly labelled. They had bought the meat from FA Gill Ltd, a family-owned meat company in Wolverhampton, who in a statement said: "FA Gill can categorically deny that the pork came from their supply as they do not deal with Dutch meat."
After last year's horse meat scandal, where horse meat was discovered in processed beef products sold by a number of UK supermarket chains including Tesco, Dr Johnson believes the latest labelling problem highlights how difficult it is to manage the long and complex supply chains that retailers use.
"As firms outsource to other firms – creating supply chains – they lose control and visibility of what is going on as suppliers outsource to other suppliers in the drive for lowest cost," said Dr Johnson on BBC Radio Two's Simon Mayo Drivetime show.
"What can be done to ensure that consumers know exactly what they are buying? Firms with lengthy and complex supply chains need to understand what they actually look like. They also need to build relationships with suppliers to ensure transparency. In the short term this is more expensive. In the long term, it leads to improved consumer confidence and can highlight areas where additional value – profitability or cost savings - can be made. For example Waitrose work with farmers to assist with the certification of organic produce, which has higher value to shoppers.
"Meanwhile, I would advise consumers to be vigilant. They can begin to understand what they are buying, they can begin to make choices to pay a little bit extra, like going to your local butchers where the supply chain will be shorter and will have visibility right down to knowing when the animal was born, slaughtered and the food it was fed."
The long and complex supply chains used in the globalisation of products has led to cheaper prices for consumers, but Dr Johnson believes mistakes and problems like this latest incident will continue to occur if the public are not prepared to pay more for their products.
Dr Johnson said: "I don't believe consumers are aware where products comes from, whether it be clothing or food, and the incredibly long and incredibly complex supply chains involved. In the case of food we often don't pay the true cost of the product.
"To police a scheme like the Red Tractor logo or any kind of 'standard' is costly and as consumers are we really willing to foot the bill for the kind of monitoring of these schemes that there is?
"Though this is an unfortunate incident, it is not unexpected. All firms use suppliers to provide products and services, creating complex, lengthy and opaque supply chains. They use suppliers to provide things that they deem to be 'non-core' while focusing their activities on areas that they excel at. Tesco, as an example, is an excellent retailer not farmer. Raising and slaughtering livestock for meat is done by somebody else. Apple is excellent at product design and marketing. Assembly of the various electronic devices is done by somebody else. This specialisation allows firms to be more profitable and responsive but does have downsides.
"I think these widely reported supply chain problems have raised awareness and things are beginning to improve, people are beginning to be aware of the issues. But this will occur time and again because we have all of these connections, chains and hand-offs that leads to a lack of visibility as to what is going on in the supply of many of our products."
Click here to listen to Dr Johnson BBC Radio Two's Simon Mayo Drivetime. He is on after one hour 35 minutes.
Dr Mark Johnson teaches Supply Chain Management and Operations Strategy on the Warwick Executive MBA and Operations Management on the Warwick Global Energy MBA and the school's Undergraduate courses.