Mark Skilton speaks at House of Commons on value of 5G
26 January 2017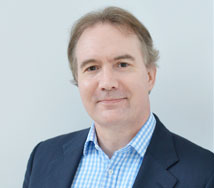 WBS academic invited to House of Commons to talk on 5G
Professor Skilton offered advice on the vital role 5G will play in UK
Mark Skilton is Technical Lead Author of proposed Guide to 5G
He believes 5G will be the internet as it originally should have worked
A Warwick Business School academic has spoken at the House of Commons during a vital meeting to discuss the value of 5G in the UK.
Mark Skilton, a Professor of Practice at WBS, was invited to talk at the event as he is set to be the Technical Leader Author of the proposed Guide to 5G and Internet of Things (IoT), working with the Institution of Engineering and Technology (IET) and the Data Protection Act (DPA).
The discussion, 5G Connections: How can 5G Broadband Boost the UK's economy held between MPs, Industry Operators and Academic Experts focused on how 5G is critical infrastructure and will lead to job creation and productivity as well as regional development.
The breakfast session also raised questions over how 5G would make money for organisations and drive price competition and looked to explore what were the necessary skills for installing and using 5G technology. It was chaired by Drew Hendry MP, Chair, Digital Economy All-Party Parliamentary Group.
Professor Skilton said: "5G is just around the corner but will not be like 3G, 4G or anything ever experienced before. In some ways, it is the internet as it should have worked: instant, everything everywhere, immersive and the backbone of a connected economy and engaged society for generations to come."
Other questions were raised on how local and government policy might need to evolve to encourage investment and upgrading of existing telecoms sites for better coverage across urban and rural areas.
"Regulators and government needed to promote policy changes to support access to public areas to push road, building coverage as well as opening up spectrum for 5G that enable rapid build and testing of new 5G technology into demonstrated reality," added Professor Skilton.
"Support for this work would also be needed on standards and guidelines to promote preparation amongst industry practitioners to get ready for 5G.
"Guidelines such as being promoted by the IET and DPA to provide assistance to UK practitioners will be a necessary part to translate the 5G promise into reality through clear installation guidance, working technology practices, security-by-design and economic models for business cases.
"These along with OFCOM, GSMA, BIS, NCSC, IEEE and many others will need to establish pathways with industry and government to enable this 5G vision."
Mark Skilton teaches Information Systems Consultancy on the MSc Information Systems Management & Innovation. He also teaches Developing Consulting Expertise and Introduction to Consulting on the MSc Business suite of postgraduate programmes and Business Consulting on a range of our WBS suite of undergraduate programmes.
As part of his invite to the House of Commons, Professor Skilton was also invited to write a blog on 5G.