MBA graduate Claire Horton wins top charity award
16 September 2016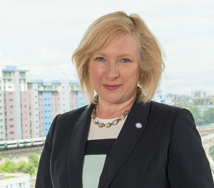 WBS alumna Claire Horton named Charity Chief Executive of the Year
Claire has transformed fortunes of Battersea Dogs & Cats Home
The charity behind Paul O'Grady's TV show beat off four other finalists
Dedication and passion of Claire lauded by charity chairman
Battersea Dogs & Cats Home Chief Executive Claire Horton has been named Charity Chief Executive of the Year in the prestigious Third Sector Awards in recognition of her achievements in steering the world-leading charity through a period of successful transformational growth.
The Warwick MBA alumna, who joined Battersea as its Chief Executive in 2010, has a background of more than 30 years working in management across the voluntary sector.
In the six years since she joined Battersea, public support for the much loved charity has soared.
Battersea is now one of the top 10 best-known charities in the UK and the home's volunteer numbers have increased nearly 200 per cent, while last year alone there was a 48 per cent increase in the numbers of foster carers.
Claire has helped secure Battersea global recognition as a leading animal welfare charity, and the home's award-winning ITV show Paul O'Grady: For the Love of Dogs is broadcast worldwide.
Under her leadership, Battersea Dogs & Cats Home has helped thousands of dogs and cats that have come through its doors in urgent need of help and through no fault of their own, many the victims of backstreet breeding, animal cruelty and puppy farming.
Claire beat four other finalists to scoop the top prize at the Third Sector Awards, held at the Lancaster London Hotel.
Speaking after the ceremony, Claire said: "It is a great honour to be recognised as Third Sector's Charity Chief Executive of the Year, especially facing such tough competition.
"Battersea has been on the frontline of animal welfare for 156 years and, thanks to the incredible efforts of our staff and volunteers, we are able to do so much for the thousands of animals in our care and those beyond our gates.
"Just last week our new Veterinary Hospital and Centre of Excellence opened, which means we have the facilities to help transform the lives of even more dogs and cats in need.
"Battersea is a place like no other and I'm proud to lead a highly talented team of people who care so passionately for our animals, giving them the second chance in life they so deserve."
Battersea's Chairman of Trustees, Amanda Burton, said: "I'm thrilled Claire's hard work has been recognised - she dedicates every moment to Battersea and her passion and drive truly inspire our staff and volunteers.
"She's hands-on with every aspect of the charity, constantly evaluating and improving the way it looks after, manages, and rehomes the animals in its care.
"Claire has done so much to improve the fortunes of thousands of animals and I know she will lead her team from strength to strength in the coming years."
Find out more about the Executive MBA that Claire Horton took at Warwick Business School.