MBA's L'Oréal placement offered valuable insights
26 September 2016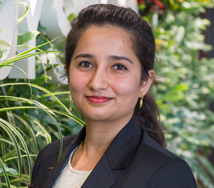 L'Oréal placement offered invaluable insights for one MBA student
Deepika Thumsi beat students from other business schools to the placement
She was tasked with identifying innovative business models for the firm
The chance to forge industry contacts was another highlight for Deepika
A hard-earned placement opportunity at The Body Shop - L'Oréal was the perfect opportunity for one WBS MBA student to gain valuable insights into the workings of a top business.
Deepika Thumsi competed with a number of other business school students in order to secure her project and dissertation with The Body Shop. Deepika was picked after impressing a review panel with her past experience and the knowledge she could bring to the project in question.
The consultancy project provided a real time experience to work on a live business issue and put into practice the key learning areas of the MBA according to Deepika.
"I really enjoyed the experience working for L'Oréal – The Body Shop. The team was very cooperative," said Deepika.
Deepika has worked in IT consulting for a number of years for Accenture Services Pvt Ltd and HCL Technologies Pvt Ltd in her native India. The opportunity to work with a FMCG company therefore gave her a very different experience and opened her mind to the possibility of working in a different sector.
"I definitely believe that such real world application on the FT MBA programme is very useful as it provides the work based experience to complement our CV. It acts as a platform to learn about the business environment, identify the latest trends in the industry and the key issues associated with.
"I have previously worked in a service based organisation and gaining exposure in a product based FMCG company is totally different and dynamic. There are huge growth potential and opportunities in this sector and my project experience has definitely changed my opinion on the industry sector I want to work in."
MBA students have a minimum of three opportunities to work on client-based projects during their year with WBS. This means students have the opportunity to gain practical consultancy, stakeholder management and influencing skills through direct experience.
Academically, the consultancy project tests participants' ability to apply their learning to real management issues.
Deepika added: "My project involved interviewing key persons from the organisation like the account managers and retail directors to determine the feasibility of the strategies which I would propose. The respondents shared a lot of inputs and documentations needed to perform in-depth research work.
"The project has real time impact on the business and any valuable suggestions recommended would be explored further for implementation."
To find the right project it is important to network with the right people in an industry of interest according to Deepika, who is originally from Bangalore, India. This can be done through attending carious recruiter presentations and events and utilising social media platforms such as LinkedIn.
LinkedIn proved particularly fruitful for Deepika as she could liaise directly with a contact at L'Oréal and join the cosmetic firm's company page.
"I learned a lot about the cosmetics market and the brand L'Oréal extensively in the research phase," said Deepika. "Also the project was more towards identifying innovation across industries which helped in gaining a lot of insights about other industries as well. The project served as a source to enhance my business acumen.
"The problem I had to solve was to identify innovative business models which could be implemented at The Body Shop which in-turn would provide differential advantage to the business. I had to perform research on the different cross industry business models which are innovative and identify strategies on how those analogies could be used at The Body Shop.
"The experience gained from the placement is invaluable and offered opportunities to build a network of industry connections. The project served as a great platform for learning and determining my career path."
Students are supported throughout their project by staff at the Business School, and Deepika was grateful for this support.
Deepika said: "I received good support from the university, both from my supervisor and careers team. The careers team supported me in the application process and I could reach out to my supervisor when I had issues with the project scope or had difficulty to figure out how I should address certain tasks."