MBA students from Canada visit WBS
03 July 2013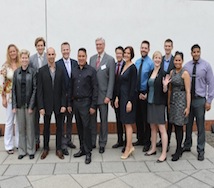 A group of Executive MBA students and academics from the Sauder School of Business, part of the University of British Columbia (UBC) in Vancouver, visited Warwick Business School last week to find out more about how the UK Government manages and provides the nation's healthcare.
The students were joined by professors and Board members from UBC, together with WBS academics, led by Professor of Health Care Management, Eivor Oborn.
The week-long visit was a bespoke module on the subject of International Health Care Systems. The group members had a busy programme, including:
Presentations by senior executives of the NHS, BUPA, leading academics of WBS, Warwick Medical School and Royal Holloway University of London on incentive and performance pay, the role of the private sector, government reforms, and Public Private Partnerships and Private Finance Initiatives
Attending a site visit to the University Hospital Coventry & Warwickshire, where they met senior executives of the Coventry & Warwickshire Partnership NHS Trust
Site visits in London to the Royal College of Surgeons and the National Institute for Health & Care Excellence (NICE)
Lectures, presentations and groupwork, led by leading WBS academics Professors Oborn, Graeme Currie, and Gerry McGivern on collaborating for leadership, mental health services, social services, care for the elderly, and knowledge translation; theories, models and organization.
Professor Oborn said: "The module was a great opportunity for all those involved to exchange knowledge and research, and to compare experience of healthcare management in different parts of the world."
In between academic sessions and site visits, the group had some free time in London, and enjoyed hosted lunches and dinners at the Warwick campus. Group presentations by the students, followed by presentation of certificates by Professor Currie, concluded the module.
WBS Associate Dean for Internationalisation, Professor Qing Wang, was host for the final event of the week, a champagne reception. She said: "WBS is committed to our mission, which is to produce cutting edge research that shapes the way organisations operate and businesses are led and managed, and to produce world-class, socially responsible, creative leaders and managers who think on a global scale. Sauder is our international partner and this module is a great example of our mission being put into action."