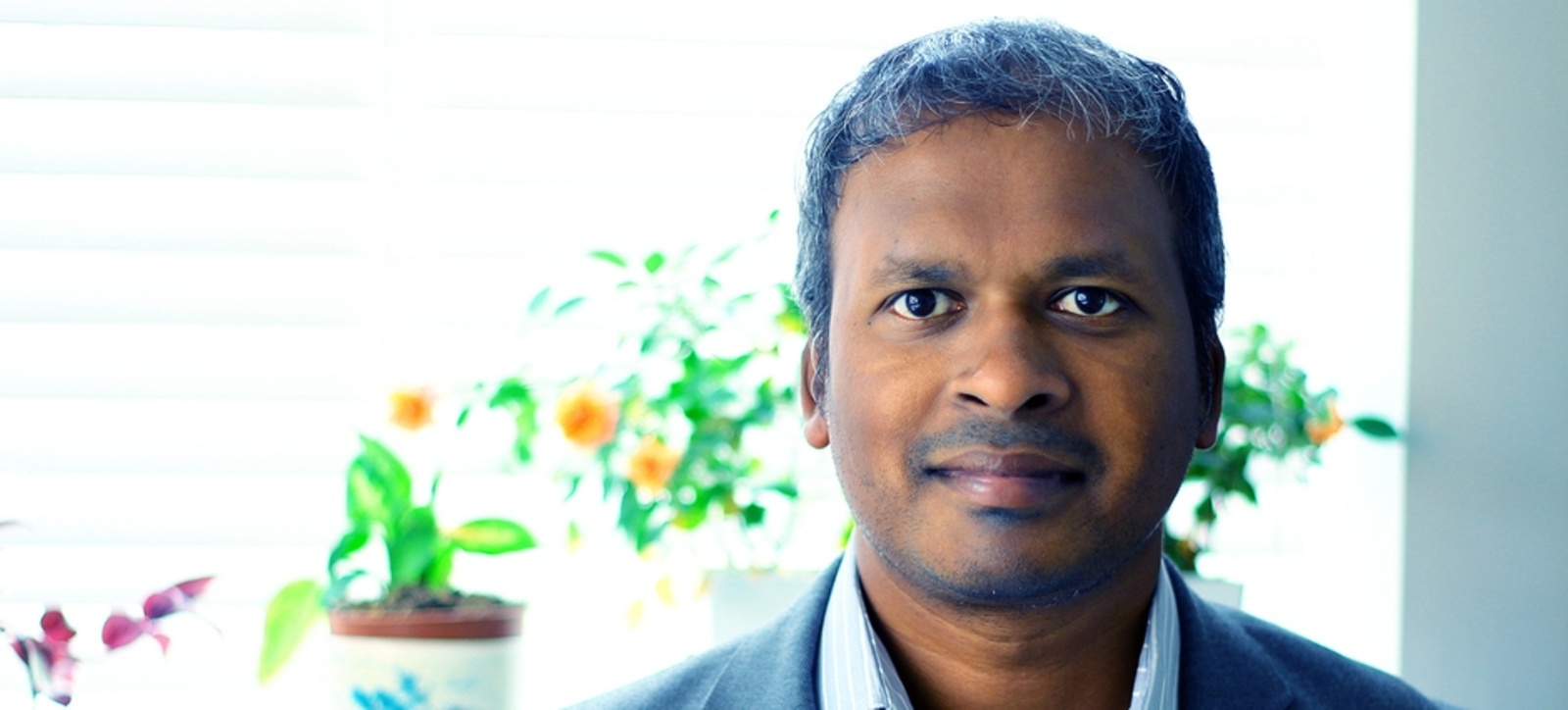 Natarajan Chandraeskhar using technology to connect donors and children
He is employing blockchain and crypto-asset tech Ethereum and Chainlink
7.4 million refugees and 132 million girls can't access education worldwide
The virtual hackathon saw 4,000 people take part from 170 countries
MBA student Natarajan Chandrasekhar saw off more than 140 competitors to win $5,000 in a worldwide hackathon.
The 39 year-old, who is studying for an Executive MBA, impressed judges with his Smart Scholarship idea that utilises blockchain and crypto-asset technologies Ethereum and Chainlink to help refugees and girls across the world gain access to education.
It won Natarajan and team-mate James Mulqueeny, 25, of Southampton, the Social Impact Prize, which was sponsored by the United Nations Educational, Scientific and Cultural Organization (UNESCO) Global Education Coalition, in the Spring 2021 Chainlink Virtual Hackathon that saw more than 4,000 people take part in over 140 teams from 170 countries.
Natarajan, of Cambridge, said: "It is fantastic to win the Social Impact prize, especially as there were so many great entries. I was inspired by the idea of creating a solution to enable meaningful social impact by applying blockchain and smart contract technologies.
"I have an interest in blockchain and crypto technologies and I believe in the idea that the value of any technology is based on an opportunity it creates or a problem it solves.
"The hackathon allowed me to create and test an idea of how this emerging technology could be used to solve a compelling social problem involving refugee and girls' education. This award by UNESCO and Chainlink is a validation of our Smart Scholarship idea and a confirmation that this is a first step in the right direction.
"For Smart Scholarship to succeed and realise its envisaged social impact, we need to build an ecosystem with the right partners and co-develop this solution.
"The plan is to collaborate with like-minded ecosystem partners to iterate on our prototype to build a real-world case. This will allow us to unearth issues and challenges across a number of dimensions - from a business, legal and technical point of view - that need to be resolved before this solution can be scaled and deliver meaningful social impact.
"Nelson Mandela said: 'Education is the most powerful weapon which you can use to change the world.' These golden words resonate with me. Unfortunately, not everyone has access to education."
According to UNESCO four million out of 7.4 million school-age refugees are unable to attend school, with the United Nations High Commissioner for Refugees (UNHCR) finding that just 24 per cent reach secondary school and only three per cent make it to higher education level.
Meanwhile, worldwide the United Nations Children's Emergency Fund (UNICEF) calculates 132 million girls are out of school with only 66 per cent of countries achieving gender parity in primary education. And at the secondary level, the gap widens to 45 per cent of countries bringing about gender parity in lower secondary education, and 25 per cent in upper secondary schools.
Natarajan's Smart Scholarship idea enables the delivery of targeted scholarships to promote equity for refugee and girl students. By using blockchain and smart contracts it allows donors across the globe to fund refugees and girls to go to school or move into higher education no matter their geography or local currency.
This solution creates an infrastructure to administer the end-to-end workflow of scholarships and also act as a financial payment rail to transcend geographical and currency boundaries.
Donors deposit funds into Ethereum smart contracts that are then awarded to participating students based on their academic performance. The scholarship and the rules reside in a public blockchain as a smart contract on the Ethereum network. Using Chainlink External Adapters students' grades can be transferred onto the system to trigger an automatic financial pay-out from the donor.
Furthermore, donors can receive a digital certificate as an acknowledgement of their contribution to enable a social impact, which could be used as part of their corporate social responsibility reporting or for tax credits.
Natarajan said: "For me this was a great opportunity not only to learn something new but also to validate if I could apply what I learned in a useful way.
"The Smart Scholarship project uses a number of technologies that are at varying stages of maturity, but with further development I truly believe this could help connect donors to refugees and girls needing help to access education in a simple and efficient process that overcomes the barriers of local currencies and geography."