MBAs revel in Vancouver's diversity and natural beauty
23 November 2016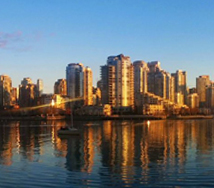 All expenses paid trip to Vancouver part of the full-time MBA
Lectures at Sauder Business School and trips to city's top firms
Students explore sustainability and green aspects of Vancouver
Free time for skiing, boat trips and exploring wildlife
Watching Orca whales squirt water into the blue sky and arching back into the Pacific Ocean from the vantage of a plane, nature lover Cecilia Cordova Ramos was in her element.
Vancouver is renowned for its outstanding natural beauty, as it sits on the west coast of Canada, surrounded by the majestic North Shore Mountains, with gorgeous rivers, an active volcano and a rainforest full of amazing wildlife, all within easy reach of the city.
"I'm into nature so I found Vancouver wonderful," says Cecilia, of Peru.
"Watching the Orcas in their natural environment was amazing. I saw them by seaplane and then I joined a group on a boat to see the marine life around Victoria, which is on Vancouver Island.
"It is a charming city, surrounded by wonderful nature.
"It was a packed week, but we had some free time and I took the opportunity to see a bit of nature, while others went skiing in the mountains.
"The city also has some fantastic parks, like Stanley Park, which is huge and full of greenery and trees; there seem to be wonderful views of the mountains wherever you are in the city as well. I enjoyed exploring it all."
But for Cecilia, 33, the nature and green living ways of Vancouver, which aims to use 100 per cent renewable energy within 20 years, were not the only highlights of an all-expenses paid trip that was part of her full-time MBA.
She also made valuable contacts, discovered different ways of setting up a business and found out how learning about new cultures opens up new opportunities.
"There were so many new perspectives," says Cecilia, who was Head of Finance at real estate firm Urbanova in Lima, Peru, before embarking on an MBA.
"For me, the highlight of the trip was meeting and gaining insights from top bankers from some of the largest Canadian banks and investments banks. You could see things you haven't seen before, and think how you can implement them whether it is in the UK or back in South America. It also helped to see gaps in the various markets.
"Learning to see things from the other side of the table; I think that's the biggest lesson to draw from the trip. Understanding cultures, even in business, you'll understand different things.
"That's a big thing to take away from the trip - linking the theory we've learnt with experience with people out in the field. In my case, I could bring my perspective from South America and compare it with that of Canada and now the UK.
The trip, which was part of the Leadership Plus module, included a programme of lectures at Sauder Business School relevant to core topics taught on the MBA with a specific focus on British Columbia and Canada, its financial positioning on a global scale and its wealth of natural resources.
As part of this, a panel of guest speakers made up of local businesses plus company tours allowed the teaching to be put into context.
"We went to Vancouver International Airport," says Cecilia. "We had the opportunity to learn about the operations, the future plans and what makes this airport different. Their focus on passenger satisfaction is smartly covered by a program based on having the help of retired people as volunteers to guide the tourists at their arrival, making it a much friendlier and warmer experience.
"We also visited Endurance Windpower, a Green energy company, where we had the opportunity to have a productive one-to-one conversation with Allan Thompson, Director of Operations, where he explained their production line and how they operate with overseas markets."
Indian Karishma Frank, 26, who worked for advertising agency Wieden+Kennedy in Delhi, found a visit to an e-commerce company fascinating.
"We went to a cloud consulting firm involved in data-driven marketing," says Karishma, who, as a brand strategy planner, worked with the likes of Nike and Old Spice before enrolling on the MBA.
"Going to these companies was best for me as it is highly relevant for any modern day marketeer. Getting insight into the company's daily challenges gave me great perspective, as these are areas I would like to explore further.
"We also visited the football team Vancouver Whitecaps and spoke to the social media marketing manager which was quite interesting.
"I was looking for a global MBA that gave exposure to a diverse culture, and so the trip to Vancouver was a great way to do this.
"It's one thing being in a classroom with people of 25 different nationalities, but then going out to another continent, meeting different MBA students, engaging with professionals and entrepreneurs, learning from international professors; the cultural immersion is unparalleled and has greatly added to my overall experience at Warwick.
"As a researcher interested in socio-cultural trends, of my trips to Germany, Dublin and Vancouver this was by far the most culturally immersive so that's why I enjoyed it the most. The tour to the anthropology museum and the sessions on the First Nations was very inspiring."
Vancouver also provided students with a fantastic way to unwind from the heavy workload of an MBA, while still learning and benefiting from the opportunities to network and bond according to Gareth Roberts.
The 35-year-old Welsh MBA student says: "The intensity of studying a full-time MBA can be overwhelming at times, and therefore the study trip to Vancouver was an excellent time for the cohort to bond outside of group norms and cement long-lasting friendships and alumni networks.
But what makes Vancouver stand out? Gareth believes it is because the Canadian city is such a different experience to the UK, giving a totally unique perspective on things.
"Vancouver regularly features as one of the top cities in the world to live and work in; therefore making this a fantastic location for a WBS study trip," says Gareth, who left his job as Design Manager at Design Reality in North Wales to do an MBA. "The links with Sauder Business School ensures that all WBS full-time MBA students have an opportunity to experience a global perspective as part of their studies.
"Overall, the quality of the teaching, guest speakers and company tours were second to none. Vancouver will remain a highlight of the MBA for most students, and that's without mentioning a day's skiing in Whistler!"
The trip to Vancouver, with lectures, tours of companies and a look at how a truly green and sustainable economy works is a once in a lifetime opportunity, which Cecilia believes has to be approached with an open mind and plenty of energy.
She adds: "Embrace every activity, participate a lot and ask lots of questions, it doesn't matter how silly you think they are. Make the best of the time, it is a bit tiring to do things in the early morning or later in the evening, but to get the best out of the trip you really need to do that. Be open to different cultures, you might sleep a little less during the week, but it is well worth it. Be an explorer - see beyond the place itself."
Read more about the full-time MBA here.