Mulberry in danger of confusing luxury shoppers
13 June 2014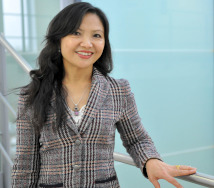 Luxury brand expert Professor Qing Wang has warned troubled British handbag maker Mulberry that it risks confusing consumers with its latest strategy change.
The Somerset outfit revealed profits for the year to March 31 fell to £14 million from £26 million the previous year, while like-for-like sales in the 10 weeks to June 7 were down by 15 per cent.
Chief executive Bruno Guillon left Mulberry in March after the company was forced to issue a series of profit warnings.
Guillon had sought to move Mulberry into high end of the luxury elite market alongside the likes of Prada and Gucci by selling bags that cost more than £1,000, but it hasn't worked and company is now looking to head back to the £500 to £800 range according to executive chairman Godfrey Davis.
Professor Wang said: "The huge price increase last year for its high end products to match its aspired new exclusive luxury status appeared not to have been thought through, as the price increase was not backed up by strong narratives but was purely based on cost considerations.
"It seems to me that the management of Mulberry failed to understand that even with the right ingredients that Mulberry possesses such as fine material, craftsmanship and a 'made in Britain' label, the making of a true luxury good requires time and process to distil.
"The latest knee-jerk reaction to reduce the price due to a profit warning will only add to the confusion in the mind of the consumers of the company's brand image as to whether it's an affordable luxury like Coach or an exclusive luxury like Burberry."
Founded in 1971 Mulberry, which is now 56 per cent owned by Singapore billionaires Christina Ong and Ong Beng Seng, enjoyed rapid annual sales growth of 32 per cent in three consecutive years from 2010 and 2013 and its share price rose by more than 500 per in 2011.
But its move into the high end of the luxury market last year saw up against giants like Burberry, Gucci and Prada, who have a much longer history and are well established brands.
Professor Wang also believes Mulberry is failing to take advantage of emerging markets like China.
"Despite the runaway success of recent years, Mulberry suffers from a number of weaknesses," said Professor Wang, who is director of MICEE (Marketing, Innovation & the Chinese & Emerging Economies) and member of the Leverhulme Luxury Network.
"The company's sales growth is too concentrated on the UK, Europe and the US. For example, in 2011, sales at its New York and Paris stores grew by 122 per cent and 151 per cent respectively.
"Despite almost half the Mulberry stores being in Asia only a handful are in China, compared to more than 100 Burberry stores in China. Burberry's sales growth is particularly strong in the Asia-Pacific region, where its goods are sold in 10 times more outlets than Mulberry."
The company built a second UK factory last June where it created 320 new jobs and is due to open a new flagship store in Paris next year, though moving back to the mid-range of luxury market will take time.
Professor Wang said: "There is little doubt that Mulberry is currently at a crossroads as it attempts to transform itself from a humble British heritage to a global luxury brand."
See this article featured at The Guardian, The Scotsman and The Times.
Professor Qing Wang teaches Buyer Behaviour on Warwick Business School's undergraduate courses.