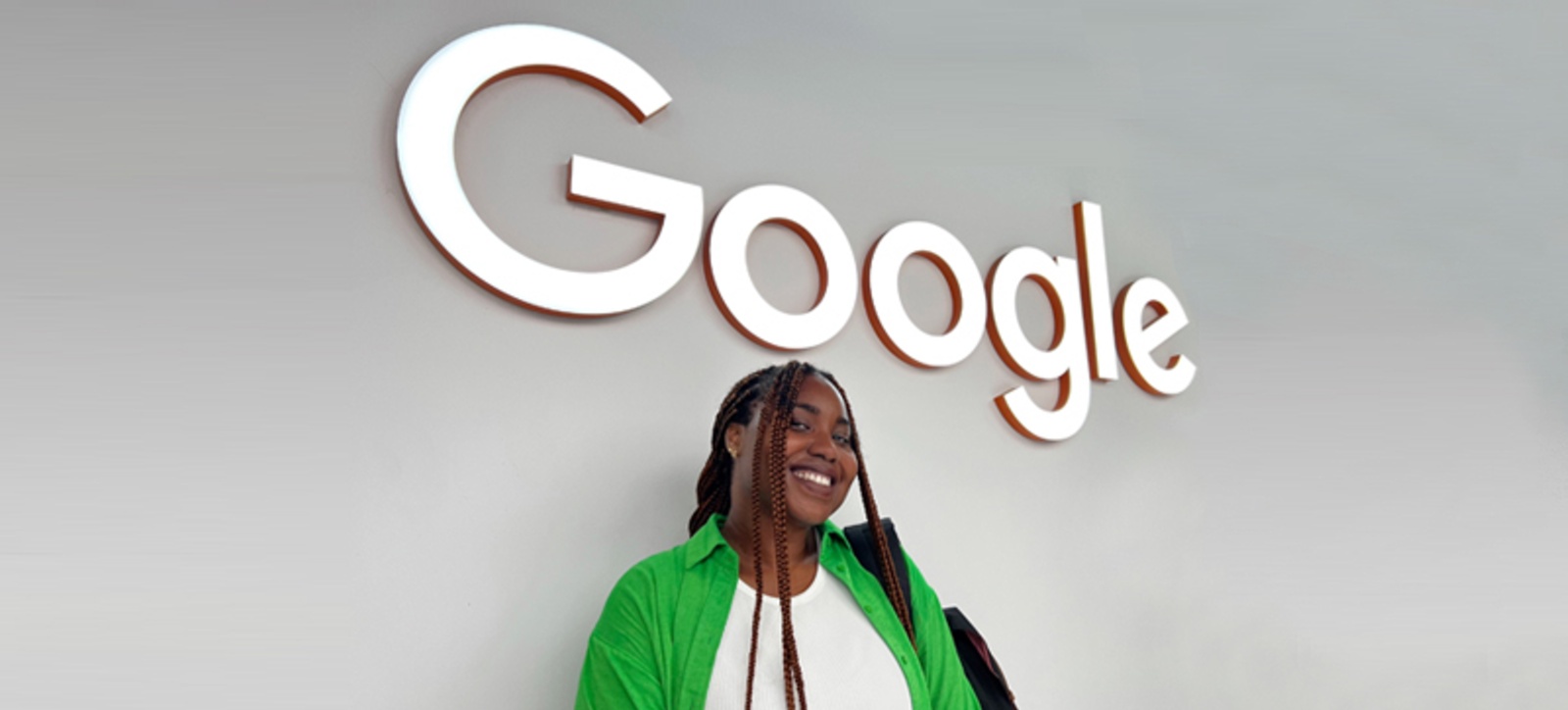 WBS alumni Remen Ibhawoh's Business in Practice project was the perfect preparation for joining Google's Dublin office
Oseremen Ibhawoh says the intensiveness of her final Masters team project at Warwick Business School has prepared her perfectly for life at tech giant Google.
The 27 year-old won a job at the US software multinational's Dublin office as a Solutions Consultant after completing an MSc Management of Information Systems & Digital Innovation at WBS.
For the final project students can choose to do a traditional dissertation or work in a team to do a more practical Business in Practice (BiP) project.
Osremen, known to her friends and family as Remen, chose the team project and found the experience invaluable, picking up skills that she uses every day at the Google offices.
"It was such a unique, challenging and novel experience," said Remen, who moved from her home in Port Harcourt, Nigeria, at 17 to do A levels at Northampton's Bosworth Independent College in the UK.
"One of the most valuable things I gained was the ability to learn a new complex system as quickly as possible with a team, and work collaboratively to be able to achieve a common goal, which in the case of BiP was to have a lucrative, innovative and sustainable automotive business.
"This helped me tremendously when I began my role at Google because I found myself in an environment that was very similar. Google is a company where you are constantly navigating ambiguity and learning new, highly complex things on the spot, every single day.
"The intensiveness of BiP and having to create mind maps of how actions lead to certain results within the simulation, really provided an exciting playground to learn complex things, experiment, be creative and work towards the same goal with a team, while having an absolute blast.
"As a result, I was able to strengthen my team-working skills, build a steeper technical learning curve and create structure in the midst of ambiguity. These are skills I utilise within my role at Google today."
As a Solutions Consultant Remen resolves technical issues for clients using Google's marketing platform, but she has been inspired by the many black women in leadership positions at the firm to aim high at the company, which become the third US tech giant to be worth $1 trillion in 2020 after Apple and Microsoft.
"I'm very lucky to be in a company that is very diverse, where I have the privilege to see black women like myself in very high positions of leadership, such as VPs and managing directors," said Remen, who enjoys swimming lessons at Google's swimming pool and dance classes at its gym alongside free coffee, breakfast and lunch.
"This was the first thing that struck me when I began my career with Google and that has made me believe that I do have all it takes to find myself in those positions of leadership one day.
"Within the next 20 years, I want at least to be a director or VP within my organisation and, outside of work, also have a stable entrepreneurial venture, potentially in property and estate management or something that taps into my wanderlust, such as tourism services."
Remen says Diversity, Equity and Inclusion (DEI) is a very important topic at Google, with the company putting together initiatives to attract more women and ethnic groups into the tech industry.
"Google is keen to ensure there are equal opportunities for people from diverse ethnic backgrounds as well as genders," said Remen.
"There is always a need for more women in tech because it is a male-dominated field, especially in leadership positions. There is a dire need for more female role models in positions of power. Although at Google, there is diversity, I feel that this is a privilege that many others would benefit from.
"As a woman, it is important to have more people that look like you at the top as a motivator. This validates your big dreams and gives you that reassurance that you can work hard and get there.
"For me, seeing women in managerial and director positions is always a source of inspiration to know that my dreams are valid and that people like me can achieve our dreams too."