Nadhim Zahawi: Passion and fear, ingredients for success
11 February 2016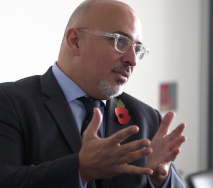 Nadhim Zahawi fled Iraq with his family as a child
After ups and downs in business, his big success was YouGov
He says entrepreneurs should not just be in it to make money
He attributes passion, fear and past failures for his success
From narrowly escaping the clutches of Saddam Hussein and failing with a business idea involving children's TV sensation the Teletubbies, to being the founding partner of YouGov and a standing MP for Stratford-upon-Avon, Nadhim Zahawi has certainly had an intriguing life so far.
It was to offer his unique insight into business and share stories of his experiences that Mr Zahawi came to deliver a talk to alumni at WBS London at The Shard.
Mr Zahawi may well have found success in setting up the online market research and pollster website YouGov, but, he admitted, it came after the experience of the failure and he told alumni that being an entrepreneur is not just about making money.
"We all want to be in an economy that is high wage, low welfare, low tax," said Mr Zahawi. "The way to achieve that is having great entrepreneurs, great entrepreneurial spirit. Not just start-ups, but mid cap to large cap firms, across the full spectrum of business.
"But I would say, if you want to start a business just to make money, you will probably fail."
To illustrate his point, Mr Zahawi, who sat on the Business, Innovations and Skills select committee, used the examples of Facebook's Mark Zuckerberg, Apple's Steve Jobs and Microsoft's Bill Gates.
"They never set out to make money; they set out to make a great product, computer or social network and were passionate about it," said Mr Zahawi.
"Start a business because you are passionate, and you will succeed. And the by-product of that success is financial success."
Fleeing the Hussein regime
While he has achieved a lot in the UK, Mr Zahawi's family originally came to the country from Iraq, fleeing in 1976 just as Saddam Hussein was rising to power. Being Kurdish meant his father's life was at risk under Hussein's brutal dictatorship and after he refused to join the ruling Ba'ath Party they fled the country. It is estimated by NGO Human Rights Watch that Hussein killed 50,000 to 182,000 Kurds during his 24 years in power.
"I remember it [leaving Iraq] well," said Mr Zahawi. "It was a Swiss Air flight stopping in Geneva before London. My mother, sister and I went to see off my father. He had boarded the plane and then a pick-up truck full of soldiers sped onto the runway to the plane.
"My mother was in tears as we thought they would take my father off the plane, but as it happened they took a man sat directly behind him. We then travelled a few months later after my mother had managed to sell whatever we had left to raise the money to do so."
From the turmoil of Iraq, Mr Zahawi was then able to put his head down and study hard in the UK, eventually trying his hand at starting a business.
Failures provide big lessons
He had just graduated with a chemical engineering degree and was approached to join friends in their new venture, a T-shirt printing business called Global Hypercolor Ltd. The T-shirts used a brand new material that changed colour as it got hot and became hugely popular in the early 1990s, but the fad quickly faded.
From there he moved on to his own business selling licensed clothing with brand names such as Warner Brothers. However, this proved to be a notable business failure after the success of the first T-shirt business.
Not one to let failure bring him down, however, Mr Zahawi was determined to learn from his unsuccessful venture.
He said: "Entrepreneurs should have at least one or multiple failures before they have a success, something I think we have to get more used to in the UK.
"Through failures you really learn big lessons in business. I often say to colleagues in parliament that unless you've lost money you have no idea what it is to build a business and do well in life.
"The biggest lesson for me, I found, was that you've got to be on top of the whole business process – I was just focused on the marketing process. I'd signed the Teletubbies license, a massive prospect akin to this generation's Peppa Pig, for all merchandise except toys.
"But ultimately, the back-end, manufacturing was not working properly. We were not delivering, the costs were too high for retailers, so we ended up losing money on each delivery. You've got to watch your bottom line, got to watch your margins. As well as the top end number, the turnover number.
"The licensing costs ended up exceeding the sales revenue. It was a costly and painful mistake, but I learnt an invaluable lesson."
Inspired by a piece of American history
The failure spurred Mr Zahawi to go on and develop YouGov with Mr Shakespeare. Something he built first in a flat, then a shed before it became what it is now, a marketing empire spread across four continents after it went public in 2005.
How did the idea for YouGov come about? Well according to Mr Zahawi it had more than a little bit of inspiration from a notable event in American history.
Mr Zahawi said: "YouGov came out of a romantic idea, along the lines of the Boston Tea Party - no taxation without representation, i.e. if people are going to pay their taxes online, which was just starting, then they would also want to give their opinion online as well."
What other advice does Mr Zahawi offer would-be entrepreneurs? In essence it comes down to having the right frame of mind, even if occasionally it means being somewhat paranoid.
"The entrepreneurial spark in part came from my family and specifically my father's influence," said Mr Zahawi. "He was an entrepreneur, so I basically lived in a home where ideas and entrepreneurship were the talk around the kitchen table.
"You've also got to have a level of confidence to go out and say you're going to change your career. But, ultimately, you've got to have the ability to execute and deliver on a good idea. You've got to grind it out, build the platform and think how you will sell the product.
"Finally paranoia. If you are going to be successful in business, Steph and I would literally chat until 3am paranoid someone would do better than us, build a better platform – that fear of failure drives you. If it is driven by passion it leads to success."
Learn more about entrepreneurship
Professor of Entrepreneurship, Deniz Ucbasaran, offers further advice to entrepreneurs in the WBS article: Three key traits of a successful entrepreneur.
Associate Professor of Entrepreneurship and Innovation, Tamara Friedrich, discusses Four lessons from Posh Spice for entrepreneurs.
Join the Warwick entrepreneurship network group.