New generation of Change Makers graduate from WBS
17 July 2019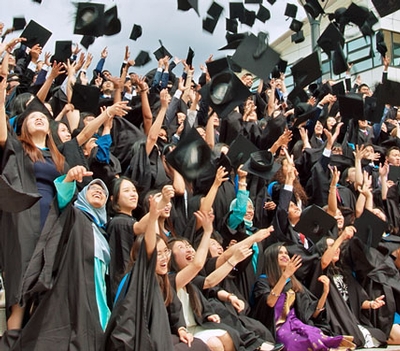 More than 400 graduate during first ceremony on Wednesday morning
Ceremonies broadcast live on big screen and university website
DVDs and photographs available after the event
More than 300 postgraduates to receive certificates on Friday
Hundreds of Warwick Business School students from all over the world will be celebrating graduation this week.
In total, 853 students will be graduating this week, with three ceremonies being held at Butterworth Hall.
On Wednesday morning 403 students who studied BSc Accounting & Finance, BSc Management and BSc Information Systems Management & Innovation will be gowned-up and collecting their certificates from Dean Andy Lockett, Professor of Strategy & Entrepreneurship.
In the afternoon another 134 will be officially graduating in BSc International Management, BSC International Business and BSc Law and Business Studies.
While on Friday 316 postgraduates will be handed their certificates by the Dean and University of Warwick Vice-Chancellor Stuart Croft.
Professor Lockett said: "Graduation week is one of my favourite times of the year. To be able to reward these young men and women is an absolute pleasure and their hard work will stand them in great stead for whatever career they aspire to.
"We hope to keep in touch with all these fine graduates as they forge exciting new careers and become part of our Alumni community.
"I would like to congratulate all our graduates and thank them for adding to the wonderful mix of cultures we have at Warwick Business School."
The ceremonies will be broadcast live on the giant screen in the Piazza and on the University Of Warwick website for family and friends who can't attend, with a DVD also available afterwards.
Graduates can also head to the Copper Rooms for their photo to be professionally taken.
Sue Newell, Associate Dean for the Undergraduate Programme, said: "Congratulations to all of our undergraduates today. This is reward for three and sometimes four years of hard work and I would like to especially congratulate our first Foundation Year graduates, who have done fantastically well to adapt to student life and greatly enriched WBS over the four years of their study.
"This is a time of great excitement for undergraduates as one chapter closes in the lives and a new one begins. I wish them luck as they embark on the start of a new adventure."
Ross Ritchie, Associate Dean (Postgraduate Business and Management Programmes), added: "Graduation marks a fantastic achievement for all our students and reward for a year of hard work and perseverance. I would like to congratulate them all and wish them the very best for their future."
Alex Stremme, Associate Dean (Postgraduate Finance Programmes), said: "After dedicating themselves to a year of intense study graduating in front of family and friends is a special kind of reward for students. I will enjoy seeing them graduate and wish them good luck in the career path they choose."