New online MBA out of London launched
22 January 2018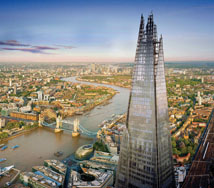 The UK's top ranked online MBA is now available out of London
Students can do face-to-face elements at WBS London at The Shard
WBS Distance Learning MBA ranked second in the world by Financial Times
London students will visit companies in the City and network with industry
Warwick Business School is launching a new version of its online MBA that will be based out of its WBS London base at The Shard.
The school's Distance Learning MBA is ranked second in the world and first in the UK by the Financial Times and as part of the degree elements are taken face-to-face in two 'Warwick Weeks'.
Students will now have the option of taking these weeks of networking, lectures, group work, activities and presentations at The Shard, situated next to the City, the financial heart of London that hosts the world's major bank and financial services companies plus the Bank of England. They will also now have the option of taking a module face-to-face at The Shard.
The first intake for the Distance Learning MBA (London) will be in June with applications now open.
John Colley, Associate Dean for the MBA, said: "Running the Distance Learning MBA out of The Shard in London opens up opportunities for students across the globe to take one of the best online MBA courses in the world.
"We have more than 30 years' experience of teaching the Distance Learning MBA and basing it in London will give international students a wider array of flying options with five major airports around the capital.
"It will also mean we can take the students to some of the top businesses in the world based in the heart of the world's financial capital."
The Distance Learning MBA (London) - which lasts two to four years, though there is flexibility to take longer if needed - combines online lectures, tailor-made multimedia study materials, the highly-interactive my.wbs platform, and WBSLive - a virtual classroom - for eight required modules, four elective modules and a consultancy project.
The bespoke my.wbs platform allows students to engage in lectures in real time, test their knowledge, watch archived sessions, access teaching materials, connect with other students, participate in global syndicate groups and speak directly to lecturers and the programme team.
The face-to-face weeks at The Shard, will contain lectures, seminars and group work. Students will also visit companies in London to see the theory put into practice as part of their assessed group work, plus take part in poster competitions and lunch with guests from industry.
Professor Colley added: "The advantage of doing an online MBA is that you can immediately apply what you are learning to your work, your business will have an instant benefit.
"But if you are using the MBA as a career move, doing it at WBS comes with the assistance of one of the best careers departments in the world, it is one of the reasons the Distance Learning MBA is so highly ranked.
"And, on average, graduates earnings were the second highest three years after completing the course from WBS according to the Financial Times."
For more information on the Distance Learning MBA (London) click here.