Three teams of Warwick MBA students qualify for global competition
14 February 2013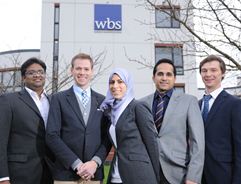 The US-based Hult International Business School is running its fourth Annual Hult Prize, an initiative that brings together top students at top-tier business schools from around the world to seek solutions to the world's most pressing social challenges. No less than three teams from the Warwick MBA by Full-time Study have been selected to go through to the regional finals, out of a total 10,000 applications from over 350 colleges and universities, covering 150 countries.
The 2013 Hult Prize is themed around global food security and will focus on how to get safe, sufficient, affordable and easily accessible food to the 200 million people who live in urban slums – a challenge personally selected by former US President Clinton.
The sponsors of the Prize will make available US$1million in seed capital to provide funding to pilot the very best ideas.
The Hult Prize regional competitions will take place on 1-2 March at Hult's five campuses - in Boston, San Francisco, London, Dubai and Shanghai. The WBS teams will compete in San Francisco, London, and Dubai.
The winning teams from each region, together with the winners of an online 'runners-up' final, will be flown to New York for the global final at the AGM of the Clinton Global Initiative in September, where the US$1million prize will be awarded.
"The Hult Prize is thrilled that Warwick Business School has joined the initiative," said Dr Stephen Hodges, President of the Hult International Business School. "This year's competition has received a record number of entries, bringing together some of the most talented students to help solve global food security which can benefit nearly a billion people."
Dean of WBS, Professor Mark Taylor, commented, "It is great to hear that we have three teams qualifying for this challenge and competing in San Francisco, London, and Dubai. It is evidence that we are producing world-class, socially responsible, creative leaders and managers who think on a global scale. We wish them all the best in their endeavours."
The Warwick MBA teams, who between them cover seven nationalities across four continents, are:
London - Rajeth Muthuramalingam, Aadish Nair, Brian Bosak, Arwa Bayoumy, and Ilya Kichatov
Dubai - Sharath Nair, Vivek Yarrabothula, Saurabh Sinha, and Narendran Sivakumar
San Francisco - Supriya Mundra, Mohamed Matar, Jane Kwong, Adam Lawrence, and Nikolay Samoylov.
Further information
Founded in 2009 by Hult International Business School Alumnus Ahmad Ashkar, and responding to a challenge made by President Bill Clinton in 2010, the Hult Prize is committed to launching a new wave of social entrepreneurs through identifying and launching disruptive social ventures that are poised to change the world. Its annual challenge is the world's largest student competition and one of the world's leading crowdsourcing platforms for social good.